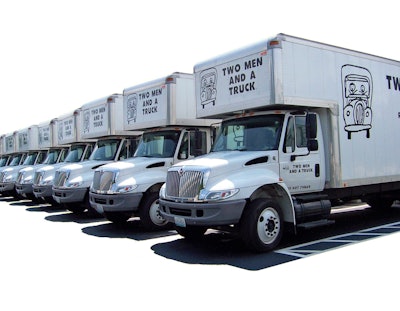 The moving services franchise Two Men and a Truck enters the second quarter with confidence after achieving 36 consecutive months of record growth, the company reports.
March marks the moving franchise's 52nd consecutive month of overall revenue gain. Two Men and a Truck disclosed revenues totaling $61 million in the first quarter, a 9.5 percent increase from last year.
Additionally, the brand opened nine new franchise areas in the quarter and signed four new areas for development.
"We have repeatedly outperformed our overall growth numbers and demonstrated our brand, in conjunction with having a strong, supportive infrastructure and providing quality customer service, has enabled us to drive record results," says Randy Shacka, president of Two Men and a Truck. "We continue to focus on our customers while building upon our culture and we remain confident in Two Men and a Truck's long-term growth."
With a focus on ongoing growth initiatives, Two Men and a Truck is looking to surpass their 2013 numbers by posting a system-wide revenue goal of $375 million for 2014, in addition to signing an additional 30 franchise areas, the company adds.
In order to achieve this objective, the brand plans to continue expanding into top-growth markets such as Maryland, Texas, Southern California, and Oregon, as well as pursuing its long-term goal of securing a larger international presence.
New and existing locations are achieving record growth and profitability, and this is contributing to the system's positive momentum, according to the company.
As Two Men and a Truck continues to expand across state lines, internal adjustments will be made to assist the brand in securing unique market advantages and boosting strategic operations.
The Lansing-based corporate office is adding a 20,000 square-foot expansion to make room for additional team members, a new sales center, and increased customer service response time. Two Men and a Truck also continues to invest in operations and marketing automation software to systematize processes and bolster corporate-customer relationships.
The company reports 270 national locations and 26 international locations.
"The Two Men and a Truck brand connects with our ever-growing franchisee base and with our customers. It is rewarding to look back upon our previous successes, but it's even more inspiring to look forward to what we will accomplish in the future," says Brig Sorber, CEO and one of the original two men of Two Men and a Truck. "Our outlook for quarter two is very optimistic as we continue operating on a solid platform for growth in the months ahead."