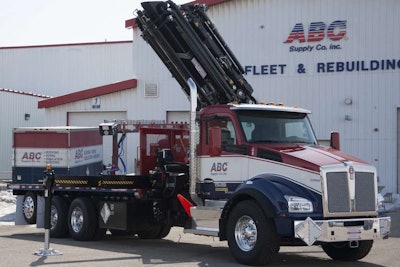 Kenworth Truck Company's first full-production Kenworth T880 was recently delivered to Beloit, Wis.-based ABC Supply Co., Inc., one of the largest distributors of exterior building products in the country.
The first full-production Kenworth T880 is equipped with a Paccar MX-13 engine rated at 430 hp and 1,550 lb-ft of torque, a 10-speed manual transmission and a 116.5-inch BBC hood. The truck was produced at the Kenworth assembly plant in Chillicothe, Ohio.
ABC Supply's new T880 is equipped with a 59-foot Hiab XS 335 crane.
ABC Supply plans to add 53 more Kenworth T880s this year.
"The Kenworth T880 is a rugged and durable truck that can get the job done in our demanding application," says Mike Boggs, director of operations for ABC Supply. "The T880 has the specific frame, cab and drive train layout to allow for the proper length and turning radius. The engineers at Kenworth were able to help us with important details on chassis layout which in turn helped us produce a unit that fits our needs."
The Kenworth T880s, which ABC Supply purchased through Wisconsin Kenworth – Milwaukee, will be assigned to the company's various branches across the U.S. to deliver roofing, siding, windows and other building supplies.
The company also operates more than 100 Kenworth T370, T680 and T800 trucks in its fleet.