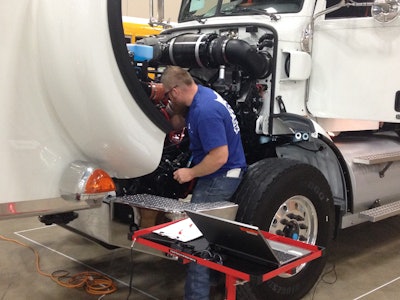 No matter how long you've been in your industry life will always throw you curveballs.
Jacob Pogue, a mobile diesel technician at Rush Truck Center – San Antonio, found himself standing at the plate Tuesday with one of those curveballs came his way.
Five months ago, Pogue completed training that allowed him to service Peterbilt natural gas engines. Tuesday, he was working on one of those engines in the Rush Tech Rodeo finals.
"This is the first one I've worked on since I went to school," he says. "They're just not in the market right now. We don't see them. The market is just in its infancy right now."
Pogue completed upwards of 30 hours of online training before traveling for hands-on training. With barely two weeks of education under his belt, Pogue went to work on a Peterbilt CNG unit during his company's biggest all-star event.
"As far as getting to know the trucks in general, it takes years," he says of the process of hitting your stride as a mechanic. "It's taken me 15-plus years to get where you need to be. To be able to be comfortable working on anything."
The challenge facing Pogue Tuesday was a truck that wouldn't rev above idle speed. Pogue had to diagnose the cause and relay a likely remedy to a judge.
He found the first part of the problem in less than 15 minutes and suggested a proper fix. However, time expired as he neared completing the challenge.
"The judge told me it was right underneath my nose and I was overthinking the problem," he says. "Just because of my unfamiliarity with this new product, I was over thinking it. (The judge) told me, 'If you would have had another 15 minutes, you would have fixed it.' In a real world application he says I would have fixed it. When you get here or you're out in the field, you're by yourself. It's sink or swim."
Even with his new and developing knowledge of the engine, it can't be overlooked that Pogue beat out thousands of his peers – and competed against a half-dozen more yesterday – for the right to compete in the finals Tuesday.
"There's other trucks here, like the ones with the Cummins diesels," he says. "I work on those all day everyday with my eyes closed. I was intimidated coming to work on this particular engine because I just haven't seen it."
This week's event marked Pogue's second Rush Rodeo in his 10 years with the company.
Rush Truck Center CEO Rusty Rush says the company has converted upwards of a dozen of its service shops for natural gas.