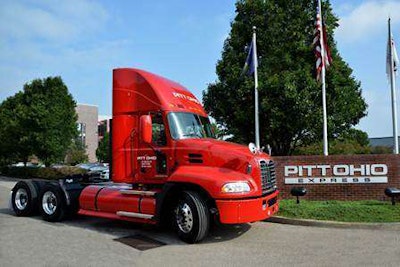 PITT OHIO says it is testing a natural gas-powered Mack Pinnacle Axle Back model in its fleet – the first natural gas truck in the company's operations.
Based in Pittsburgh, Pa., PITT OHIO is a transportation solutions provider offering LTL, supply chain, ground and truckload services.
"PITT OHIO and Mack Trucks have had a successful partnership for many years," says Denny Martin, director of maintenance. "PITT OHIO prides itself on being an environmentally conscious transportation provider, and we are constantly looking for ways to reduce our carbon footprint, not only in our fleet but throughout the entire company."
The Mack Pinnacle DayCab, which Mack says is ideal for regional haul and LTL, is equipped with a Cummins Westport ISX12 G, 400 hp engine with 1,450 lb.-ft. of torque. The ISX12 G engine meets both EPA 2010 and CARB emissions standards and has the additional benefit of a maintenance-free after treatment.
The natural gas-powered Pinnacle model features dual 45 diesel gallon equivalent (DGE) compressed natural gas (CNG) tanks and can be configured to run on both CNG and liquefied natural gas (LNG).
PITT OHIO is just the most recent customer to utilize Mack natural gas solutions in its fleet. UPS, a global leader in logistics that offers a broad range of solutions for the transportation of packages and freight, recently ordered 122 LNG-powered Mack Pinnacle models. Mack also offers natural gas-powered Mack TerraPro Low Entry and Mack TerraPro Cabover refuse models.