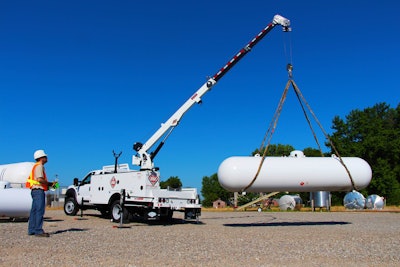 Iowa Mold Tooling Co. Inc. introduced Tuesday an enhanced IMT Dominator propane mechanics body at the International Construction and Utility Equipment Exposition (ICUEE), in Louisville, Ky.
The company, which is exhibiting at the show, also introduced design enhancements for its lineup of electric telescopic cranes.
The company says its Dominator propane mechanics body package has been enhanced to increase operator productivity, and features more tank hauling capacity and a powerful new IMT 6000 telescopic crane.
The unit is ideal for transporting and handling two 500-gallon tanks, one 1,000-gallon tank or up to 13 100-pound tanks, the company says.
Terry Cook, product manager of commercial products at IMT, says aluminum side panels and tailgate on the Dominator propane body have been reduced from 12 inches to six, allowing the truck to fit a second 500-gallon tank or a 1,000-gallon tank.
The body was previously designed to transport one 500-gallon tank or up to 13 100-pound cylinders.
The IMT 6000 telescopic crane features a patent-pending Penta Boom design and is rated at 39,000 foot-pounds with a maximum capacity of 6,000 pounds and 22 feet of reach. The crane features a single proportional radio remote control for precise maneuvering, total load visibility and operator safety.
Hydraulic out-and-down stabilizers are easier to deploy for better unit stability during crane operation, and the lightweight body construction, which IMT says maintains all the structural benefits of steel, allows for increased payload capacity.
The electrical system on the Dominator propane body includes an electrical control panel in the crane compartment that has compartment and exterior light switches as well as an hour meter for the crane. The automotive-type wiring harness is manufactured specifically for the Dominator propane body and uses only sealed, hinge lock connectors.
Options for the Dominator propane body include drawers and drawer sets, manual stabilizers, a workbench bumper, vise and vise plates, individual compartment lights, and work lights. In addition to the IMT 6000 crane, IMT cranes from 12,000 foot-pounds to 38,000 foot-pounds are also available.
The Dominator propane body unit has a rear-mounted block storage compartment. An integrated E-Track System and headache rack allow the operator adjustable securing of various sizes of vertical propane tanks.
"The upgraded Dominator propane body offers all the benefits of our industry-leading Dominator mechanics trucks in a package designed, tested and manufactured especially for the propane industry," Cook said.