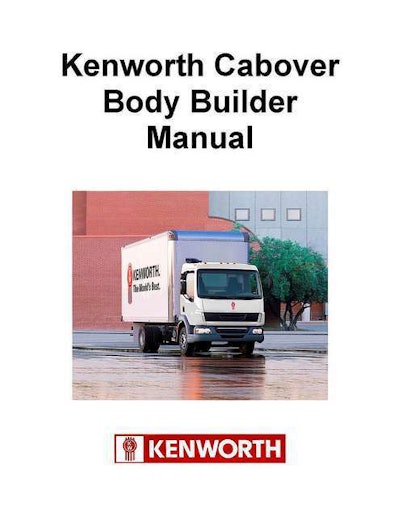 Kenworth has released its latest Kenworth Cabover Body Builder Manual, which contains information and guidelines for truck specification and design during the body planning and installation processes.
The manual's information is specific to Kenworth K270 Class 6 and Kenworth K370 Class 7 cabovers.
The comprehensive 96-page booklet contains detailed sections on cab and chassis dimensions, 2013 engines, exhaust and aftertreatment designs and functionality, frame layouts, chassis and cab electrical systems, body mounting, frame modifications, and routing.
"The Kenworth manual provides information and guidelines that are very beneficial during the cabover body planning and installation processes," says Doug Powell, Kenworth medium duty marketing manager. "Early in the vehicle definition and ordering process, body builders can often contribute valuable input that may help reduce the ultimate cost of the customer's cabover body installation."
The Kenworth K270 and K370 cabovers are for beverage distributors, pick-up and delivery, furniture, food processors, landscape, towing, and other urban delivery applications. A key advantage of the Kenworth cabovers over medium duty conventional trucks is a 55-degree wheel cut for a tighter turning radius and greater maneuverability for operating in crowded urban environments.
The bumper to back of cab (BBC) of only 63.4 inches for the Kenworth cabovers – compared to a 106-inch BBC on medium duty conventionals – also provides plenty of room for a large van body. This enables the K270 and K370 to haul more payload with a shorter overall length. This is especially important as overall truck length is becoming more regulated in some major metropolitan cities. In addition, the Kenworth cabovers offer a large windshield for enhanced visibility, and room to carry a three-person crew with a driver air-suspended seat and two-person bench seat.
Both the K270 and K370 are powered by a 6.7-liter PACCAR PX-7 engine with a standard 220-hp rating and 520 lb-ft of maximum torque. Optional ratings are 240-hp and 560 lb-ft of torque and 250-hp with 660 lb-ft of torque. Both models are available with Allison 5-speed transmissions.
To obtain a copy of the Kenworth Cabover Body Builder Manual, contact your Kenworth dealer.