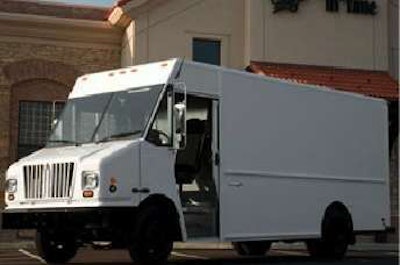 AMP Electric Vehicles' Workhorse E-100 medium duty all-electric, walk in van is now eligible for up to $60,000 in incentives under the new, $19 million New York Truck Voucher Incentive Program.
The program is designed to encourage the purchase of battery-electric commercial trucks as well as other energy-efficient transportation. More information on AMP vehicle eligibility can be found on the New York Truck – Voucher Incentive Program web page: https://truck-vip.ny.gov/eligible-vehicles.php
Fleet managers interested in purchasing AMP Electric Vehicles can now take advantage of voucher incentives that will offset up to $60,000 of the purchase price of a new AMP/Workhorse Electric Truck. With the voucher, AMP says its Workhorse truck is priced competitively with its diesel counterparts.
"We are delighted that AMP is one of only four electric vehicle manufacturers that have been selected and approved for the program," AMP CEO Steve Burns said. "Our battery-electric, zero emission vehicles are not only environmentally friendly, but less expensive to operate than diesel or gasoline powered vehicles over the vehicle's life. We look forward to being part of the New York program."
AMP's Workhorse E-100 all-electric medium duty vehicle, based on the very popular W62 platform, is equipped with a 100 KwH battery pack capable of powering the vehicle on normal daily duty cycle that requires multiple deliveries over an 80-mile route.
AMP's Workhorse E-100 can be serviced through its New York dealer network.
For more information on the program, click here.