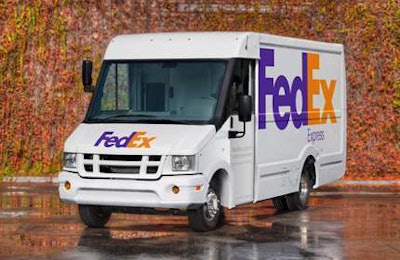 FedEx Express has purchased 1,900 lightweight, composite-body Reach vehicles from Utilimaster, a division of Spartan Motors.
The vans will join the 400 Reach vehicles already in service, giving FedEx Express the largest lightweight, composite-body vehicle fleet in the industry, with approximately 2,300 vehicles.
The Reach van, equipped with a four-cylinder, 3.0-liter Isuzu diesel engine, has 35 percent better fuel efficiency than traditional vehicles in the FedEx Express fleet, the company says.
In 2008, FedEx Corp. set the U.S. transportation industry's first fuel efficiency goal with a commitment to improve the overall fuel efficiency of the FedEx Express vehicle fleet 20 percent by 2020, as compared with its 2005 performance. Less than five years later, FedEx Express surpassed this goal with a more than 22 percent cumulative improvement in fuel economy for its vehicles and set a revised goal to improve the fuel efficiency its vehicle fleet 30 percent by 2020.
FedEx is also working with XL Hybrids, a developer of low-cost hybrid electric powertrain system, to convert 10 conventionally-powered panel vans into more fuel-efficient, hybrid vehicles.
XL Hybrids says its hybrid electric powertrain technology decreases fuel use and carbon dioxide emissions by up to 21.2 percent on urban routes, while operating with the same durability and reliability as traditional vans and trucks.