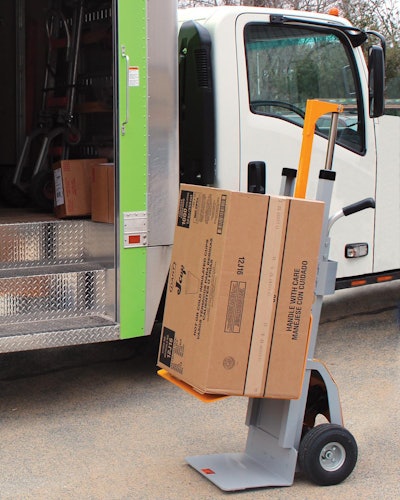 Combining the vertical lifting of a small powered stacker with the convenience, versatility and simplicity of a two-wheel hand truck, the new Model LNB-350 Lift'n Buddy makes it faster, safer, and easier to transport and reposition items in virtually any work environment, the company says.
The Model LNB-350 helps transfer loads to and from shelves, workbenches, conveyors, delivery trucks, customer vehicles, etc. At the touch of a button, the unit's powered platform positions loads at a comfortable height to eliminate bending and stretching, Lift'n Buddy says. A linear actuator ensures smooth lifting and lowering with zero drift. The tethered push-button control also allows the user to adjust height from any side of the load.
Built on a lightweight and durable aluminum frame, Model LNB-350 can handle loads of up to 350 lbs. and lift them a full 36 in. Lifting power is from an on-board 12-volt battery that is maintenance-free and has a built-in charger, Lift'n Buddy says. The LNB-350 has a stationary base platen that keeps it upright and freestanding, even when the generously sized lifting platform is raised and under load. The platform has 10 slots in case the load needs to be secured with bungee cords or straps, the company says.
Options and accessories for the Model LNB-350 Lift'n Buddy include multiple handle styles, custom platforms and finishes, an attachment for lifting 5-gallon pails, a kick stand, and a cylinder-handling kit, the company says.