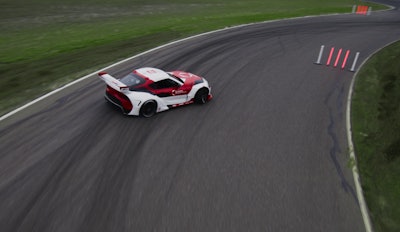 Toyota Research Institute
It's one thing to have an autonomous vehicle steer its way down an interstate—but how about a race course designed for drifting?
In the video below you can watch the computer-powered action courtesy of Toyota Research Institute which announced today that its latest autonomous driving system has enabled the world's first hands-free drifting experience.
The idea behind this research with TRI's Nonlinear Model Predictive Control is to utilize controlled, autonomous drifting to avoid accidents by navigating sudden obstacles or hazardous road conditions like black ice.
"At TRI, our goal is to use advanced technologies that augment and amplify humans, not replace them," said Avinash Balachandran, senior manager of TRI's Human Centric Driving Research. "Through this project, we are expanding the region in which a car is controllable, with the goal of giving regular drivers the instinctual reflexes of a professional race car driver to be able to handle the most challenging emergencies and keep people safer on the road."
Every year, car crashes result in nearly 40,000 fatalities in the United States and about 1.35 million fatalities worldwide. Hats off to Toyota for continuing to push the envelope to enhance vehicle safety that can reduce accidents and save lives.