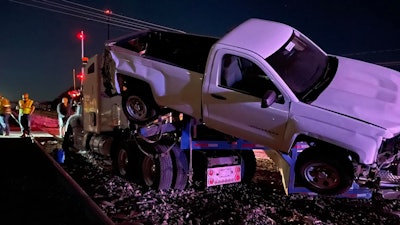 Love County Sheriff's Office
No matter what GPS says, tractor-trailer drivers should not risk trying to drive over a high-pitched railroad crossing and they should pay attention to any signs advising against same.
That advice came from law enforcement and a veteran truck driver following a recent collision between a train and car hauler in Oklahoma which was captured on video that has since gone viral.
[Related: Using navigation systems to boost safety, efficiency]
Two other trucks that became grounded on that same crossing about 80 miles north of Dallas the week of Oct. 11 were able to free their trucks before a train approached. All three truck drivers apparently followed a GPS-initiated detour to avoid road construction in the area.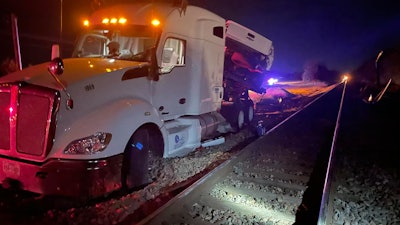 The Love County Sheriff's Office reported that the dramatic Oct. 15 collision between an Amtrak passenger train and a car hauler sent five of the train's passengers to the hospital with minor injuries. The truck driver and his dog were out of the vehicle at the time and not injured.
Love County Sheriff Marty Grisham said road construction on a nearby highway appeared to have prompted the driver's GPS to offer an alternate route, which he followed to a high-pitched railroad crossing on Addington Bend Road at Highway 77 near Thackerville.
"We've had several trailers hang up on that track in that area right there," Grisham said. "There wasn't enough room for him to turn around so I guess he decided to just go on across. Of course the trailer hung up on the tracks."
The Oklahoma Highway Patrol told CCJ that two other tractor-trailers became stuck on that same railroad crossing during the week of the crash. The driver in the viral crash was not able to free his truck in time. Once his low-riding trailer became stuck, he called 911.
"About the time our dispatcher picked up the phone and made the call [to alert train authorities] the accident had happened," Grisham said. "The timing there…it was just poor timing. There just wasn't enough time to get this train stopped before it hit."
OHP and the sheriff both said that signs are posted on either side of the crossing advising truck drivers to avoid crossing the tracks. OHP Trooper Dylan Wright from Troop 7 in nearby Ardmore said truck traffic on Highway 77 leading to the crossing "has increased significantly" following road construction on nearby Interstate 35. Oklahoma Department of Transportation has posted alternate routes on their website.
[Related: Here's how to minimize risks of GPS routing]
Longtime truck driver and owner-operator CG Soza of Soza Trucking, which specializes in car hauling, said it's a mistake to blindly follow GPS.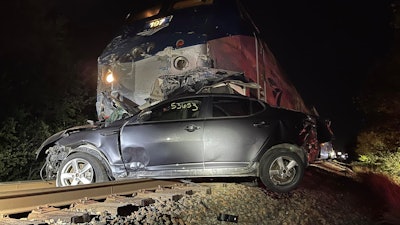 "Anybody with a little bit of experience knows that they need to check that out before they actually follow GPS," Soza said. "It's a big problem because, honestly, I don't think drivers nowadays get the training they need. They're lacking a lot of real-world experience."
The fact that the driver blew past the sign advising against crossing the tracks didn't help either.
"There's mistake number two," Soza said.
When it comes to detours that pop on GPS because of road construction, Soza said be leery of following the device's suggestion for an alternate route.
"One thing about GPS, they think you're in a car, not an 80-foot long, 14-foot high vehicle," Soza said. "That's putting too much confidence into technology and not enough thinking for themselves as a driver. I get that a lot, too, especially when the freeway's closed. I always follow the detours that the highway patrol sets up because if I get in trouble on that, then I can point the finger at somebody else."
Wright advised that truckers carefully weigh the risks before crossing any tracks.
"Heed warning signs when approaching rail road crossing area, make sure you have the proper clearance to negotiate the crossing and if there is any doubt on whether your truck will be able to cross safely or not, turn around and find an alternate route," Wright said.