Knapheide has big news for fans of the 2019 Ford Ranger.
First up is their all aluminum service body built for the Super Cab model of the midsize truck.
Next is their announcement of an upcoming aluminum flatbed.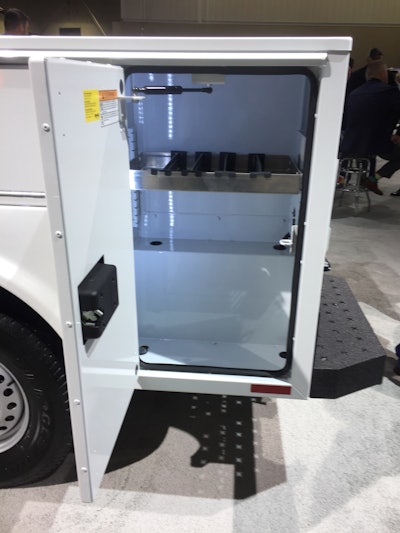 "That opens up a whole other realm of applications," Mike Soich, Knapheide's Southwest regional sales manager, says in the video below which we recorded recently at The Work Truck Show in Indianapolis.
While Soich wouldn't divulge much of the yet-to-be-revealed flatbed, he did give us a tour of the six-foot service body.
Like the Ranger itself, Knapheide's body has composite fenders. The bed floor gets a boost in strength thanks to interlocking, extruded aluminum panels. Two-stage locks help keep tool box doors more secure. Lights inside the boxes can be controlled by an upfitter switch the Knapheide has added to the driver's side panel just below the dash.
The aluminum body is complemented by an aluminum understructure which helps keep weight down on the Ranger which has best-in-class payload at 1,860 pounds with a standard pickup bed. That payload drops some with the Knapheide body, but not much.
"I mentioned earlier that this vehicle has tremendous payload capacity. It does. We have weighed this vehicle. We have certified this vehicle with an upfit. It has over 1,700 pounds of payload on a vehicle this size in the midsize market," Soich said.
Besides its lower sticker price and better fuel economy over full-size pickups, Soich said the Ranger may appeal to fleets looking for a smaller truck that will get around better in areas where space is limited.