Tuffy Security Products gave us a close look at their Model 257 Heavy Duty Truck Bed Security Drawers.
Model 257 security drawers are made in the U.S. from 16-gauge steel, with ¼-inch thick steel latch components and structural top cross supports for exceptional durability.
Each drawer can hold up to 400 pounds and ride on slides with precision ground stainless steel sealed roller bearings to evenly distribute weight for smooth, reliable operation.
Designed for outdoor use, the drawers close tightly into the enclosure opening, using premium weather seals to combat moisture and dust intrusion.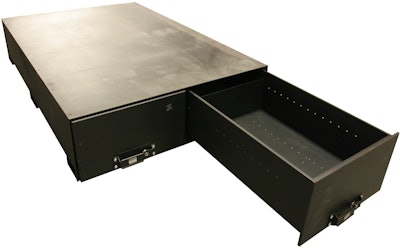 Using tab-loc welded construction, plus a pick-resistant, 10-tumbler double-bitted lock, combined with Tuffy Security Products' patented Pry-Guard II locking system, the Model 257 security drawers withstand severe duty use, while deterring theft. All Tuffy Product drawers incorporate a convenient, patented pushbutton latching mechanism similar to OEM automotive door latches.
The Model 257 Heavy Duty Truck Bed Security Drawers fit full-size Chevrolet/GMC, Dodge/RAM, Ford and Toyota pickups, plus the Navistar International CXT, and are offered in six sizes for short, standard and long beds, in 10- and 14-inch depths.
The top decks are rated to 2,000 lbs., allowing additional gear to be safely placed on and around the drawer to maximize storage. All Heavy Duty Truck Bed Security Drawers have a black textured powder coat finish to resist wear and tear and corrosion.
Tuffy's Model 257 Heavy Duty Truck Bed Security Drawers have easy-to-install, heavy duty steel mounting hardware to attach to the pickup's bed floor, and the drawer assembly can be removed by loosening the mounting hardware. The bed floor must be drilled to accept the mounting kits.