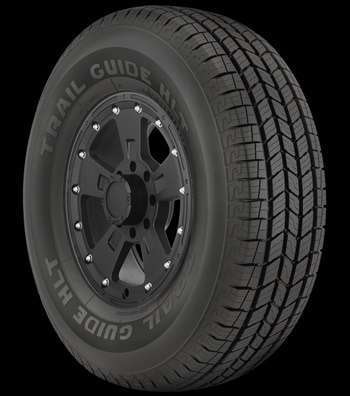 TBC Brands, one of the largest distributors of private brand tires in North America, introduced today the new Trail Guide HLT highway line for the light truck segment.
Available in 37 sizes, across 15- to 20-inch rim diameters and intended for CUV, SUV, pickup trucks and vans, Trail Guide HLT is warrantied for 50,000 miles for all sizes and comes with one year of free road hazard protection.
"TBC Brands is excited to introduce customers to the Trail Guide HLT line," said Jon Vance, vice-president of product marketing for TBC Brands. "The line, an expansion of our exclusive Trail Guide family of light truck products, offers exceptional all season traction, a smooth quiet ride, long-lasting tread life, stable handling and an appealing design all at an economical price point."
TBC Brands' reports that the introduction of this line further emphasizes its commitment to provide an economical price range with the performance and standard of a higher tier product. This line, combined with the Trail Guide AT4S all terrain line that was first introduced by TBC Brands in 2016, provides dealers two product solutions in both highway and all terrain applications, covering the two largest light truck mark segments.
The Trail Guide HLT will be available late December 2017 in the following sizes: 
235/75R15

245/75R16

265/75R16

215/70R16

235/70R16

245/70R16

255/70R16

265/70R16

245/70R17

265/70R17

225/65R17

235/65R17

245/65R17

265/65R17

235/65R18

255/65R18

275/65R18

235/60R18

245/60R18

265/60R18

235/55R18

255/55R18

275/60R20

275/55R20

LT215/85R16

LT235/85R16

LT225/75R16

LT245/75R16

LT265/75R16

LT235/80R17

LT245/75R17

LT245/70R17

LT265/70R17

LT265/70R18

LT275/70R18

LT275/65R18

LT275/65R20