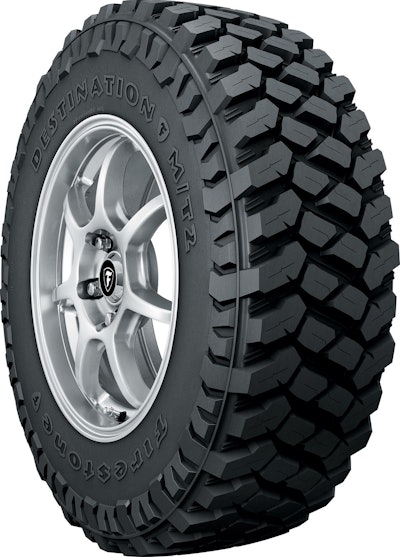 Bridgestone announced the release of the next-generation Firestone Destination M/T2 tire for 4X4 vehicles, pickup trucks and SUVs.
Featuring an all-new tread compound and aggressive tread design, the Destination M/T2 tire from Firestone is designed to deliver increased traction in the most demanding off-road conditions.
"The Firestone Destination M/T2 tire is the ultimate tire for adventure-seekers looking to get the most performance out of their truck or Jeep," said Erik Seidel, president, consumer replacement tire sales, U.S. and Canada, Bridgestone Americas Tire Operations. "Overlanders and weekend warriors expect their tires to perform across a wide range of intense conditions, and the Destination M/T2 delivers an incredible off-road driving experience. We built a tough tire that attacks the terrain."
The Destination M/T2 tire was designed for and tested in deep mud, rock and sand, and according to Firestone, delivers trusted traction with dependability and durability. Stone and mud rejectors help keep the tread clear of debris, and 23-degree attack angles give the tire strong pulling power.
An all-new tread compound, 3-ply sidewall construction and more aggressive upper sidewall design give the Destination M/T2 increased traction in mud and offer stronger resistance to chips and tears, Firestone reports. Additionally, the tire features 20 percent more biting edges for better grip on slick, wet surfaces and in snow conditions.
Available in 29 sizes for 15- to 22-inch wheels, the Firestone Destination M/T2 tire will replace the Firestone Destination M/T tire and offers increased size coverage compared to the first-generation product offering. Known for strong performance, the Firestone Destination M/T2 tire is backed by a Gold Pledge Limited Warranty and the Firestone 30-Day Buy & Try Guarantee.
The Firestone Destination M/T2 tire can be purchased at any authorized Firestone tire dealer as early as July 2017.