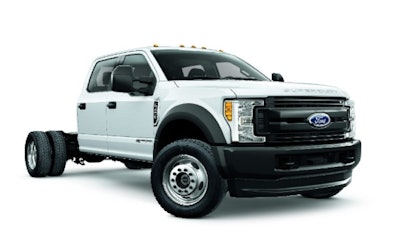 Landi Renzo announced it now has gaseous dedicated and bi-fuel variations available for 2017 Ford vehicles, including F-250, F-350, F-450, F-550, F-650, F-750, F-53, F-59 and E-450.
Landi Renzo is a gaseous fuel system qualified vehicle modifier (QVM) which allows the base vehicle warranty to remain intact based on a collaborative arrangement between Landi Renzo and the OEM.
"Landi Renzo fuel systems are designed with support from Ford engineering to ensure the tough engine operating requirements to power your fleet are met with performance, reliability and customer satisfaction in-line with the OEM product," a representative with Landi Renzo said.
To ensure optimal engine performance and warranty coverage, QVM guidelines require high quality components, high standard of manufacturing, assembly, workmanship & customer service and validation of engine operating limits (cylinder pressure, engine speed, spark, piston, valve & exhaust temperatures).
Many platforms are eligible for ship-thru, eliminating the need to transport vehicles across the country for conversion. Contact Landi Renzo for ship-thru codes on eligible vehicles.
Operating through both OEM and aftermarket business channels, Landi Renzo has achieved a worldwide market share in excess of 30 percent with Compressed Natural Gas (CNG) and Liquefied Petroleum Gas (LPG) systems.
Products are distributed worldwide in more than 50 countries through 17 subsidiaries with over 50 million conversion systems sold to date.