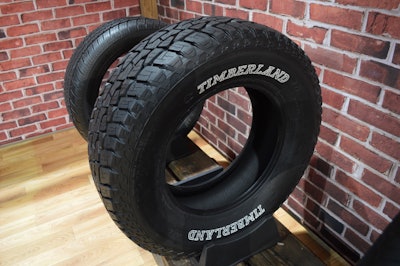 Timberland, the same people who make outdoor clothing and footwear, came up with a program which turns their brand of tires into outsoles for many of the styles of shoes and boots they make.
Timberland sells a variety of tires, all manufactured in the U.S., and at the Specialty Equipment Market Association (SEMA) Show this year were showing two truck tires.
The Timberland Cross is a tire with a 65,000 mile warranty, beveled block points to reduce road squirm and a silica-based rubber formula for long tread life. They also had on display the Timberland A/T, designed to provide pickup, Jeep and SUV owners with off-road capabilities. This all-terrain tire has a 50,000 mile warranty and larger tread lugs for traction.
No surprise, the kind of people who buy Timberland clothes and shoes care about the environment, so the company contracted with tire recycling firms to separate and sort worn-out Timberland tires for recycling.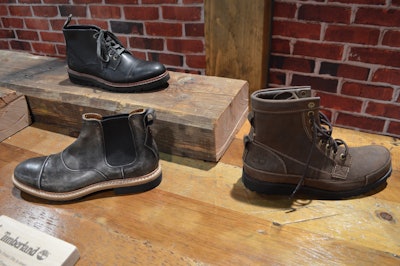 The process grinds up the old tire and turns it into a crumb rubber material which can then be remanufactured into shoe outsoles. The materials used in their tires is REACH (Registration, Evaluation, Authorization and Restriction of Chemicals) compliant, a European regulation that helps facilitate their recycling into shoe materials.
And just to make sure you get the idea, if you buy a set of their tires the company is offering a 10 percent discount on any Timberland apparel products at Timberland.com.