TUFTRUCK Coils now offers Super Heavy Duty Coil Spring Upgrades for common Ford, Dodge, and Chevrolet/GM trucks and vans.
The company has just released a couple of new products the TTC-1211 a Heavy duty rear coils for the Ram 1500, and the TTC-1224 a Heavy duty front coil spring with 2"-2.5" lift for the Ram 2500 and Ram 3500.
Our springs increase the load carrying capacity of your truck and fix vehicles with saggy suspension caused by heavy loads. They are an ideal upgrade for working trucks and vans as well as personal vehicles.
Customers have told us you will need TUFTRUCK® Heavy-Duty Suspension upgrades if your light-duty North-American truck is being used in any of the following application: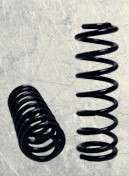 • Construction
• Forestry
• Agriculture
• Contracting
• Mining
• Oil Patch
• Snow Plows
• Platforms for a Heavy-Duty Winch
TUFTRUCK® Brand is a product line that is manufactured in North America and distributed with
the utmost quality and service you have learned to rely on.
Contact:  www.TUFTRUCK.com; 800-667-6167