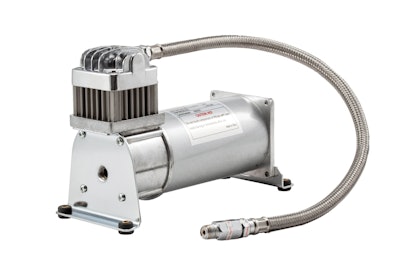 Whether powering air horns or inflating tires, Kleinn Air Horns' newest 24-volt air compressor can handle the job.
Kleinn model 6354RC is a 100% duty-cycle air compressor rated for 150 PSI maximum working pressure.
Model 6354RC pushes plenty of air volume as well by creating 1.98 CFM at 0 PSI.
For use with up to a five gallon tank, every Kleinn 6000 series air compressor is equipped with a thermal overload protection circuit to keep it functioning flawlessly, despite the punishment it may receive in the real world.
All Kleinn air compressors are equipped with a remote mount air filter kit, installation hardware and complete instructions.
CONTACT: Kleinn Automotive Accessories; (520) 579-1531