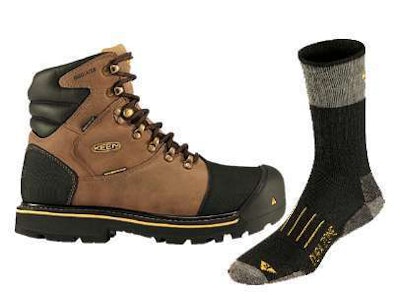 Keen's insulated Milwaukee work boots and Dura-Zone socks keep feet warm and toasty
Long, cold days call for the Milwaukee. With KEEN.Warm insulation, a thermal heat shield footbed for underfoot warmth and asymmetrical steel toes, these boots are made for tough work in all weather conditions.
The Milwaukee was built to last, constructed with the patent-pending KEEN.Welt, enhancing flexibility and performance, drastically reducing outsole cracking or delamination from repeated bending and flexing.
Feet stay dry and warm all day with a KEEN.Dry waterproof, breathable membrane and hydrophobic/hydrophilic 2-zone comfort technology.
For that extra layer of warmth, don't forget KEEN Utility's Dura-Zone socks. Crafted from breathable Merino Wool, these socks are constructed with superior fit for all-day comfort.
The Dura-Zone socks feature a unique, high-tenacity blend of Dyneema fibers which weight for weight are 15 times stronger than steel. These fibers blended into the heel and toe areas provide superior comfort and durability.
The KEEN patented Wunderseam™ also provides a seamless toe in the flex zone to avoid bunching and discomfort.
Armed with a lifetime guarantee, the American Built Dura-Zone socks are poised to outperform even the longest days on the job site.