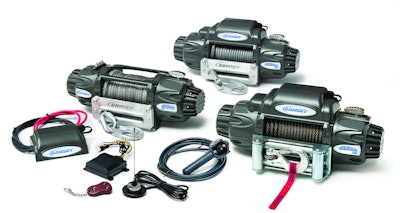 Sierra series a new, lighter, stronger, faster, waterproof self-recovery winch line-up
 One of the new items we saw walking the 2014 SEMA Show are the heavy-duty 15/18K rope and cable electric winches from Ramsey Winch. 
Ramsey is well-known in the industrial and commercial winch market.
Now they are bringing their heavy-duty winch technology to the light-duty truck and off-road market with the Sierra line.
Ramsey's new Sierra is fast, smooth, heat-resistant and sealed against dust, dirt, and water. The perfect design for hard working trucks.
In addition to being controlled both by hand-held controller and wireless, Ramsey Sierra's design features include:
Dynamic mechanical brake located in the gear end rather than in the drum reduces heat build up
Integrated cooling fins provide additional heat transfer surface area
Stronger, cool-running ductile iron drum with oil-impregnated bronze bushings and Buna-N O-ring sealed internal cavity
Patented remote activated semi-automatic clutch
Integrated or remote mount O-ring sealed solenoid and fully-sealed contacts
Heavy-duty, high-gear ratio motor with optional integrated Thermal Limiting Module
Rugged 3-stage planetary gear drive