By Jack Roberts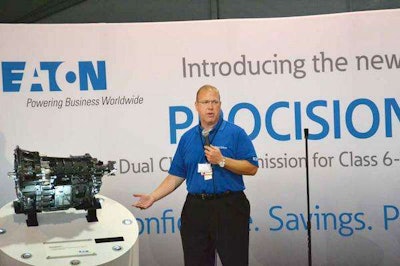 Eaton has launched a new, dual-clutch, automated transmission dubbed the Procision Line, and it debuts in Class 6 and 7 urban delivery markets, including P&D, beverage, school bus and recovery/towing applications. 
According to John Beering, senior Vice President and general manager of commerical vehicle transmissions for Eaton, the new transmission was designed with driver safety and fleet efficiency foremost in mind. Eaton says the new design features a host of useful new features, including "Hill Help" and forward/reverse creep modes and a "back and forth" forward/reverse function. A new, "Tap Downshift" feature allows drivers to quickly downshift gears by pumping on the brake pedal for added safety and vehicle control in congested driving conditions.
Eaton premiered the new transmission at its proving grounds/test track facility outside of Marshall, and allowed editors to test the unit under a wide array of driving and terrain conditions. Beers says the new, double-clutch design allows for a smooth, continuous power curve without clutch lag or any jerking effects. One clutch is fully engaged when the Procision is in gear. At the same time, the transmission's highly sophisticated ECMs preselected the next gear shift based on multiple data inputs. When the time for a gear shift arrives, the first clutch disengages while the other engages. This eliminates clutch lag and provides extremely smooth shift points throughout the engine's power curve.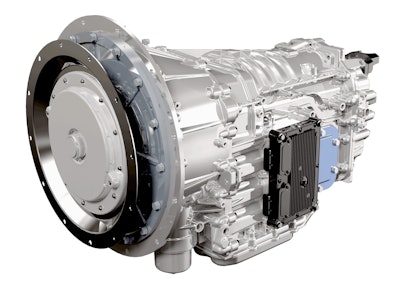 The ECM also allows highly efficient operation at low speeds. High torque output of 660 foot pounds means the transmission can efficiently hold and accelerate a truck on steep grades. I was able to launch a Freightliner M2 from a dead stop on a 20 percent grade: Vehicle rollback was minimal and the truck accelerated smoothly with only 50 percent throttle input. On a 15 percent grade, the transmission held the truck firm with no rollback until throttle was applied.
Even though many medium-duty applications are not as weight conscious as those found in Class 8 fleets, Eaton designed the Procision with highly compacted packing in an aluminum housing. The unit weighs in at an impressive 364 pounds and has been designed to be scaled down into Class 4 and 5 applications. Eaton indicated a scaled up Class 8 version of the Procision was likely in the near future as well.
Ride along on the test drive here.