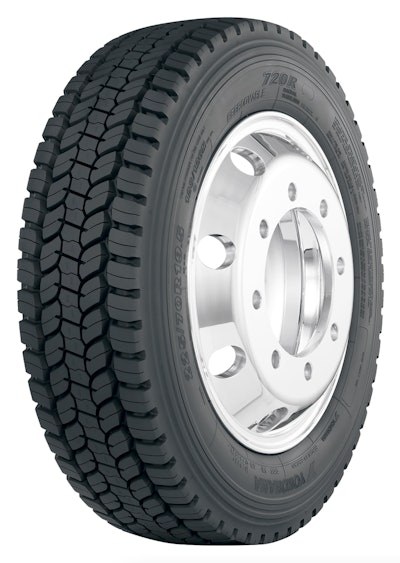 Yokohama
Yokohama has added a new commercial tire to its lineup designed for heavy-duty pickups and last-mile delivery.
The 720R is a 19.5-inch, N-speed-rated drive tire offered in a 225/70R/19.5 size and is now available in the U.S.
"The 720R is designed for fast-paced businesses," said Tom Clauer, Yokohama's senior manager of commercial product planning. "Its deep-tread design is built to last and provides year-round traction for outstanding maneuverability in urban environments."
Yokohama reports the following benefits of the 720R:
High-speed capabilities: The 720R has an all-new casing design and is N-speed-rated, allowing for speeds up to 87 MPH.
Exceptional traction: Wide lateral grooves run diagonally across the center rib for improved wet and snow traction. Plus, deep open shoulder lug grooves provide high traction and fight irregular wear, while the serpentine grooves evacuate water to provide wet traction. Also, the 18/32-inch-deep original tread depth, according to Clauer, provides aggressive traction and longer wear without sacrificing fuel efficiency.
Built to last: the 720R's sidewall protection reduces damage caused by curbing and scrubbing in typical urban operations, and the funnel-shaped grooves prevent stones and debris from reaching the bottom of the groove where casing damage can occur.