Continental Tires Sunday at the Technology & Maintenance Council Annual Meeting and Expo in Orlando introduced its fifth generation truck tire.
The new Conti HSR5, a regional all-position tire, and the new Conti HDR 5, a regional drive tire, were developed over the past few years at R&D centers in Hannover, Germany and Uvalde, Texas. Both will be available in North American market late this year and will replace the Conti Hybrid HS3 and Conti Hybrid HD3 tire offerings.
The Conti HSR 5 was developed for Class 4 and 5 trucks and is engineered with new tread compounds to improve rolling resistance and durability. The full width siping provides traction and improved handling throughout the life of the tire. The tire is available in tire size 225/70R19.5 load range G, at 16/32-inch tread depth.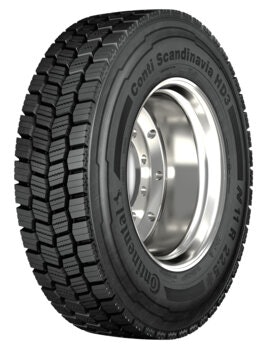 The Conti HDR 5 tire incorporates 3D matrix siping for improved traction and tire wear. The open shoulder grooves help deliver traction without compromising tread life, while the new tread compounds have been used with the objective of improving rolling resistance and durability. The tire is available in tire size 225/70R19.5, load range G, at 16/32-inch tread depth.
Both tires have the Three Peak Mountain Snow Flake (3PMSF) certification, are sensor-ready and can be retreaded. Some of the Generation 5 tires will have RFID capabilities enabling a fleet to know the make/model, serial number, unique identification number and size of the tire. This technology helps fleets improve tire asset management and tracking the total life cycle of the tire.
"When a tire is enabled with Continental digital technology such as Gen II sensor and RFID tag, the tire becomes an object for life with complete tracking for maintenance, retreading and transparency for fleet managers," said Shaun Uys, head of U.S. Market Truck Tires Replacement for Continental. "In fact, Ford has selected the Conti HSR 5 and HDR 5 tires in the 19.5-inch size as the OE fitments for its new 2023 Ford F450 and F550."
Conti Scandinavia HD3
Available in the United States and Canada in Q2 2023, the Conti Scandinavia HD3 is a regional drive tire for use in extreme weather conditions. The directional M+S tread pattern delivers even wear and traction in snow or mud, while the all-season compounding delivers performance during any season. The tire is engineered with multiple sipe technologies, including 3D siping to provide traction during winter weather conditions throughout the life of the tire. It also comes with the 3PMSF certification. The tire is available in 11R22.5 and 11R24.5 size, load range H and 25/32-inch tread depth. The Continental 3G casing is designed with high-tensile-strength steel belts capable of supporting multiple retreads and has an extended 4th belt for enhanced retreadability. The tire can be sensor ready and can have RFID capabilities. A matching retread (the ContiTread Scandinavia HD3) is available now for a complete cradle-to-grave tire offering.
Intelligent digital tire monitoring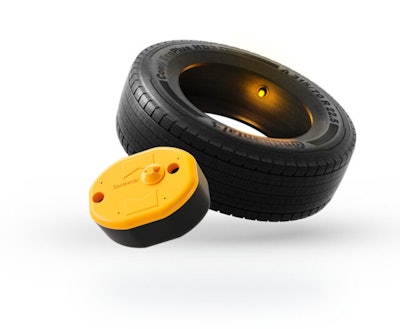 Also Sunday, Continental introduced new ContiConnect Live cloud-based solutions. Continental tire sensors collect data from inside the tires and forwards it to a telematics unit or Bluetooth dongle and driver app. The data is transmitted to the ContiConnect web portal in real time. The information can then be viewed on a computer or mobile device. The information can be used for truck and trailer monitoring or stand-alone trailer monitoring.
Available March 2023 for long haul and regional applications and fleets that do not return to a central location frequently, this solution provides GPS asset tracking to improve fuel efficiency, extend tire life, reduce labor costs equated with manual tire inspections, detect missing/stolen tires, and reduce tire failure.
ContiConnect Live stand-alone trailer solution
Available fall 2023 is ContiConnect Live Stand-alone Trailer solution. This battery-powered device solution allows unhooked trailers to be real-time monitored 24/7 for up to a month with GPS location, mileage estimation, tire pressure and temperature data. Tire issues can be addressed without waiting for the trailer to return to the depot. Stolen or missing tires can be detected when the sensors are read, and their location determined.
ContiConnect Yard Reader
Originally introduced in 2019, the ContiConnect Yard platform collects information through a telematics tracking system to provide the condition of tires on the trucks and trailers to increase uptime and efficiency. This solution works with trucks that return to a central location daily or frequently. Vehicles need to be in the proximity of the yard station reader for approximately two minutes to collect data including tire pressure, tire temperature, and sensor information and transmit the data to the IoT platform. Any tire issues can be addressed while in the yard. Tire inspections and fleet checks can be performed without touching the tire. The solution improves safety, performance, reduces tire failures, and can extend the life of the tire by as much as 20%, Continental said.
Gen II sensors
This ContiConnect component, Conti said, is the only sensor that provides true casing temperature allowing preventative actions to prolong tire life. The sensor is mounted to the inner liner of the tire and is brand agnostic. Available from the factory in new tires, the sensor lasts approximately four years to minimize service disruptions. The tire monitoring functionality includes pressure and temperature; mileage estimation; battery estimation; and Bluetooth connectivity.