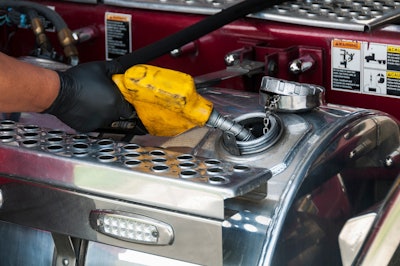 Colonial Pipeline said Tuesday evening that it continues to make progress in its around-the-clock efforts to return a 5,500-mile-long Southeastern fuel artery to full-service as the average price of fuel surged to a seven-year high of $3 per gallon.
The Georgia-based company was able to bring more lateral lines online yesterday (operating manually) to deliver existing inventories to markets along the pipeline where concerned motorists continue to form long lines at stations where prices have been on the rise. The national average price of gasoline reached $3 a gallon this week, according to AAA, a steep price last seen under the Obama administration in 2014.
"Markets experiencing supply constraints and/or not serviced by other fuel delivery systems are being prioritized," the company said via statement. "We are collaborating with the Department of Energy (DOE) to evaluate market conditions to support this prioritization."
Some Love's locations – mostly in Georgia, North Carolina and South Carolina – are experiencing intermittent diesel and gasoline outages, and the company identified another nearly 40 stations at-risk of fuel outages in those states plus Virginia.
Pilot Companies said it has seen spikes in gas demand in the Southeast, but diesel is holding steady in most markets. The company identified more than 10 stations in the Carolinas, Florida, Virginia and Georgia that have experienced some degree of service disruption.
In preparation for its system restart, Colonial Pipeline said it has taken delivery of an additional 2 million barrels from refineries for deployment upon restart.
Federal Motor Carrier Safety Administration has issued a regional emergency declaration to waive hours of service regulations for drivers hauling fuel and other refined petroleum products in Alabama, Arkansas, District of Columbia, Delaware, Florida, Georgia, Kentucky, Louisiana, Maryland, Mississippi, New Jersey, New York, North Carolina, Pennsylvania, South Carolina, Tennessee, Texas, Virginia and West Virginia.
"Actions taken by the Federal Government to issue a temporary hours of service exemption for motor carriers and drivers transporting refined products across Colonial's footprint and actions taken by several Governors to lift weight restrictions on tanker trucks should help alleviate local supply disruptions," the company said. "This is in addition to the Reid Vapor Pressure wavier issued today by the U.S. EPA that will also help alleviate supply constraints in several states serviced by our system."
The Colonial Pipeline supplies about 45% of Southeast's gasoline, but that was ground to a near halt with a targeted cyberattack over the weekend.
Some impacted states have taken action to help mitigate the shortage. On Tuesday, North Carolina Governor Roy Cooper issued a State of Emergency waiving restrictions on fuel trucks. Colonial Pipeline is a primary fuel supplier to the state.
Also on Tuesday, Georgia Governor Brian Kemp declared a State of Emergency which led to the suspension of the state's fuel tax and increased the weight limits for fuel trucks. The State of Emergency declaration lasts until May 15 and prohibits price increases on certain products and services including fuel.
Florida Governor Ron DeSantis also declared a State of Emergency this week which lifted restrictions on fuel trucks to help during refueling efforts. The state is allowing winter blend gas sales in areas affected by the shutdown of the Pensacola fuel terminal, according to the Tallahassee Democrat.