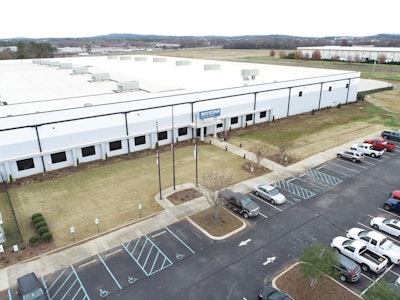 Navistar
Navistar on Wednesday announced plans to build an all-new integrated powertrain – a package that will include a Navistar-engineered engine and transmission – at its recently expanded Huntsville Powertrain Manufacturing Plant in Alabama.
Navistar in February 2020 broke ground on a 110,000 sq. ft. expansion of the Huntsville plant with an initial $125 million investment. An additional $65 million has since been contributed to accommodate increased manufacturing capabilities and to support future growth. Huntsville will assemble engines and transmissions as a part of Navistar's overall powertrain offering.
[Related: Navistar's Experience Trailer aims to help fleets with EV adoption]
Navistar collaborated with its commercial truck sibling brands for more than five years on the development of the all-new powertrain, which the company said it will soon introduce to the North American market.
Michael Grahe, Navistar's executive vice president of operations, noted the company was able to accelerate the powertrain package's time to market thanks to a modular approach that resulted from the collaboration with parent company Traton Group's global truck brands like Scania, MAN, Volkswagen Caminhões e Ônibus and RIO.
A Group-wide modular system, the company claims, enables efficient cross-brand development and production, while still allowing for regional adaptation and validation of the integrated powertrain for the North American market.
Additionally, Navistar has committed thousands of hours of research and development, and test miles to the validation of the integrated powertrain for the North American market. In preparation for the North American market introduction, Navistar will utilize fleet evaluation units to collect data and real-world input with direct customer feedback from U.S. and Canadian customers.