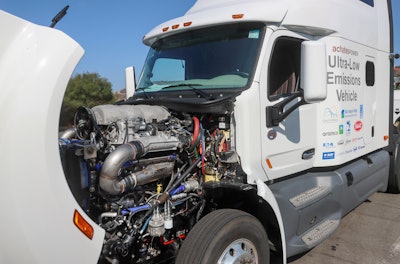 Achates Power
It may end up being one of the most innovative engines passed over for mass production.
The Achates Power 10.6-liter opposed-piston diesel engine made headlines recently for becoming the first oil burner to meet CARB's near-zero 2027 emission regs.
The San Diego-based company was founded in 2004 by the late Walmart heir John Walton and the late physicist James Lemke with the idea of redesigning the old two-stroker into an emissions slashing fuel sipper.
Eighteen years later, Achates did just that with a Peterbilt 579 test mule owned by Walmart.
The news marked a big leap from lab testing to the congested roads of Southern California where air quality is a constant concern.
"To have objective, demonstrated results is a whole different ballgame," Achates CEO Dave Crompton told Commercial Carrier Journal. "It really validates the work we've been doing and puts to rest some of the cynics that have been saying 'Hey, these are analytical models, and we'll wait to see them run.' So real engine, real truck, real customer, real service, real results. Those are terrific things."
[Related: Cummins announces fuel agnostic powertrains]
There was more good news for Achates today with the release of emission test results from the University of California, Riverside, which used its Portable Emissions Measurements Systems (PEMS) on the Pete 579.
"The PEMS measurements conducted by UC-Riverside for CALSTART on the Peterbilt 579 powered by the Achates Power 10.6-liter heavy-duty opposed-piston engine demonstrated NOx emissions control far better than other diesel engines we have tested," said Kent Johnson, principal investigator of emissions and fuels research at UCR. "This first round of measurements performed over three days in December 2021 in the California San Joaquin Valley with ambient temperatures in the mid-40s °F while the vehicle was in active fleet operation showed between a 99% and 50% margin to the most stringent EPA 2031+ in-use NOx proposed Regulations, which is outstanding."
The California Air Resources Board (CARB), which largely funded the engine's development, South Coast Air Quality Management District and other major industry players are also impressed.
"While we are investing in accelerating the transition to heavy-duty zero-emission technologies in the coming decade and beyond, we want to be sure that the last trucks manufactured using fossil fuels meet the most stringent emission standards to protect our most vulnerable communities," said CARB Executive Officer Richard Corey. "This engine does just that, and is proof certain that there are cost-effective technologies available to ensure that trucks in California, and nationwide, can meet these health-protective emission standards as we ramp up the numbers of zero-emission trucks and move away from diesel forever."
South Coast Air Quality Management District Executive Officer Wayne Nastri said of Achates 10.6, "This type of innovative, cleaner engine design is what we need not only here locally on the South Coast but across the country to protect communities nationwide suffering from pollution associated with goods movement."
The company that bears Walton's name also had good things to say about their near-zero Pete.
"We're encouraged by the initial test results of the opposed-piston engine and look forward to continued industry learnings as we pursue our goal of operating a zero emissions logistics fleet by 2040," Walmart spokesperson Camille Dunn told CCJ.
Cutting emissions and costs may not be enough
Compared to today's heavy-duty diesel standards, the Achates 10.6 slashes NOx by 90% and carbon dioxide by 10%. But that's only part of the story. It also uses less fuel.
While the Paccar-modified Pete has already shown fuel economy improvement during current testing, that number will only get better, Crompton said, as they work to optimize critical performance metrics like the shift schedule.
"I think there's further entitlement there," Crompton explained. "We have incredible confidence that it'll be a minimum of 10% fuel economy advantage for the customer."
[Related: Cummins, Tula post best cylinder deactivation results to date]
Also, engine production costs are projected to be lower thanks largely in part to its opposed piston, two-stroke design that uses no valve train. Simply put, eliminating the cylinder head reduces complexity and cost.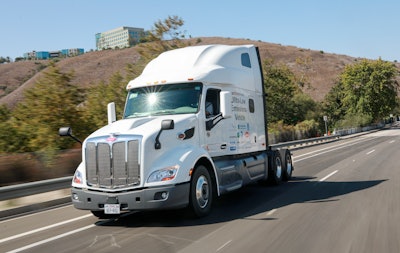 "On cost it should be at least 8% below today's [Cummins] X15 and [Detroit] DD15 engines in terms of engine BOM [bill of materials] cost, and it's easier to assemble so conversion cost should be less as well," Crompton said. "Engine assemblers will need to modify lines, but it will simplify the process with no cylinder head. We use a standard current production after treatment so system cost will be substantially less there as well."
So, while it looks like the Achates 10.6 should be checking all the boxes for engine manufacturers and fleets alike, Crompton pointed out that investment dollars have been favoring zero-emission powertrains along with new tech to complement current four-stroke platforms, like cylinder deactivation and advanced after treatment.
"There's a huge difference between doing the absolute best you can pulling out all the innovation, applying all the technology, investing money — there's a huge difference between that and doing what you can with the best you have," Crompton said.
Allen Schaeffer, executive director of the Diesel Technology Forum, sees plenty of potential for Achates' near-zero platform but notes that manufacturers have already been investing heavily into cylinder deactivation (CDA) and more complex after treatment.
"CDA, next gen SCR [selective catalytic reduction], waste heat recovery will be the tricks for the next round of standards," Schaeffer said.
Taking on a new engine platform while stepping up efforts to develop zero-emission solutions amid historic inflation and a shaky supply chain may simply prove too daunting for engine manufacturers. Not only that, but Crompton noted how companies are feeling increasing pressure from "investment, social and political communities" regarding their sustainability goals.
"They have to signal, with some sincerity, a pivot towards zero-emission solutions," Crompton said.
Success in other markets
Cleaner running engines and more fuel choices, including a growing market of renewables, are seen by major industry players as a necessary bridge to zero emissions.
In February, Cummins, an Achates business partner, announced a new fuel-agnostic powertrain lineup for pickups to Class 8 long-haul. Those carbon-cutting engines, which can run on gasoline, propane, natural gas, hydrogen, diesel and their renewable counterparts are expected to be around for decades.
"We think for the next 40 years or so, internal combustion engines are still going to be there as a transitory technology before we get to that Destination Zero," Cummins' president of engine business Srikanth Padmanabhan said during a press conference that revealed the company's fuel agnostic plans.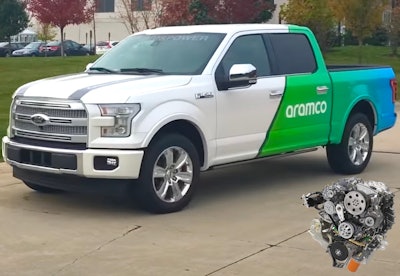 Cummins sees Achates' opposed-piston technology playing an important role in various military applications, including tanks. A collaboration between the two companies resulted in a modular and scalable two-stroker that offers 750 to 1500 horsepower. Successful testing caught the attention of the U.S. Army.
"The Army has awarded the path to production contract with significant funds to get Cummins to take it to production," Crompton said.
Achates' smaller 2.7-liter opposed-piston engine that originally made headlines a few years back as a diesel-fueled two-stroker in a Ford F-150 test mule has gone on to shed roughly 40% of its weight following a partnership with Ricardo, an engine supplier to supercar manufacturer McLaren.
The platform also made a successful shift from diesel to gasoline compression but ran into some of the same indifference experienced with the 10.7 thanks largely to the growing push towards electrification.
"Again, on the surface, phenomenal results, but it's in a market that is headed towards a highly electrified mix, most likely in U.S. and emerging markets," Crompton said. "I think that light duty platform is going to be a tremendous asset in places like Latin America and maybe portions of China and other markets where they have a much higher mix of light- and medium-duty segments than you see in the U.S. and Europe. So we're really excited about that one."
Not giving up
To further expand its green reach, Achates has stepped up hydrogen testing in its opposed-piston design.
"We think this architecture plays really well on hydrogen," Crompton said. "It's naturally a very lean burning engine anyway. Given that it's more efficient by nature, it helps offset some of the efficiency loss that you'll get by going to hydrogen. We're starting to do more work on that now."
Crompton doesn't knock the industry shift towards zero emissions.
"We're not competing against or downplaying the value of zero-emissions technologies," he said. "They're going to be needed. We want to complement those technologies and do everything we can to drive to an accelerated path to zero. Again, with hydrogen as part of our portfolio, we think that's part of that zero piece as well."
Schaeffer remains impressed with Achates progress through the years and, despite OEM preferences for CDA and SCR, thinks the near-zero two-stroke diesel could prove to be a good fit in the U.S. alongside other ICE platforms for years to come.
"I think it is a big accomplishment from a very solid team with lots of industry experience, technical knowledge and the fortitude to get it this far," Schaeffer said. "I absolutely think we will still have internal combustion engines in the 30's, 40's and even beyond. We might settle into a place where we optimize fuels and technologies based on locations and sectors."
Just as all-electric is seeing growing use cases for last-mile delivery in congested metros, ICE could be there for the long-haul, Schaeffer said.
"Perhaps like the ocean-going container ships now," Schaeffer continued. "They burn a lower grade bunker fuel in transatlantic, then 200 miles out they switch to ULSD. There is no normal anymore it seems. No normal engine displacement, no normal transmission, etc., so we need to think outside the box, and Achates is outside the box."
However, Schaeffer acknowledges that not all engine builders will embrace ICE technology that varies widely from longtime four-stroke platforms.
"As for market potential, I think there is a play for efficient and next-gen ICE, and maybe not all the OEMs — as we are seeing — want to stay in that game," Schaeffer said.
Fleets could play a role in helping to get the 10.6 to market particularly as Crompton noted how fleets are increasingly taking on pilot testing themselves.
"For reasons that I understand but don't necessarily agree with, there's going to be resistance for this with OEMs because it's not what they have," Crompton said. "So, I think the fleets will play an important role in making sure that this technology gets on the table, and that this technology is part of the conversation, and that this technology is considered as a solution set for 2027 and beyond."