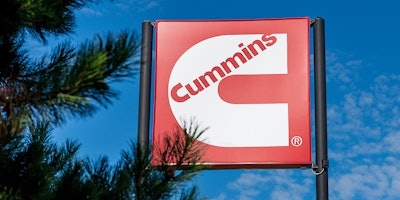 Cummins on Tuesday morning announced it plans to acquire Meritor – a Troy, Michigan-based supplier of drivetrain, mobility, braking, aftermarket and electric powertrain solutions for commercial vehicles.
The two companies have entered into a definitive agreement under which Cummins will pay $36.50 in cash per Meritor share – a total of approximately $3.7 billion.
Meritor CEO and President Chris Villavarayan called the acquisition "transformational," adding "we could not be more excited."
Cummins Chairman and CEO Tom Linebarger called the acquisition of Meritor "an important milestone for Cummins," adding "the addition of their complementary strengths will help us address one of the most critical technology challenges of our age: developing economically viable zero carbon solutions for commercial and industrial applications."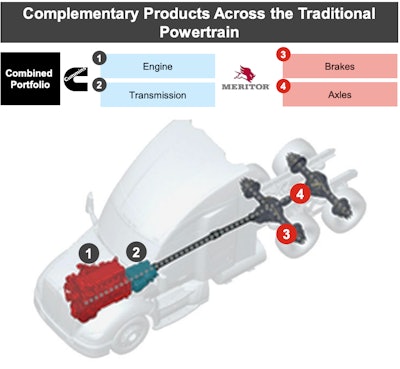 Cummins recently has been on the hunt for acquisitions in the emission-friendly space, having in 2019 closed a deal to acquire fuel cell systems provider Hydrogenics and earlier this year picked up a 50% interest in Momentum Fuel Technologies, a natural gas (CNG) fuel system solution for Class 6-8 vehicles co-owned by Rush Enterprises. Cummins this month also acquired Jacobs Vehicle Systems – the grandfather of the Jake Brake – bringing onboard its engine braking and cylinder deactivation technologies.
"We think we can be at the table now for pretty much every negotiation for who's going to supply what," Linebarger said as it relates to emission reduction strategies and components.
Cummins and Linebarger are proponents of eAxles like Meritor's 12Xe, 14Xe and 17Xe ePowertrain, seeing them as a critical integration point within hybrid and electric drivetrains, and by accelerating Meritor's investment in electrification and integrating development within its New Power business, Cummins expects to deliver market-leading solutions to global customers.
"That allows Cummins to think about whole systems and components much the way we've been thinking about it from an engine point of view," Linebarger said. "The eAxle becomes the new engine block where you start to hook all the components to."
In the meantime, Meritor's product suite will allow Cummins to offer a fully integrated powertrain – from the engine, to the transmission to the axles. Meritor, an industry leader in axle and brake technology, also adds products to Cummins' components business that are independent of powertrain technology, "and by leveraging our global footprint we expect to accelerate the growth in Meritor's core axle and brake businesses," said Linebarger.
The transaction, already unanimously approved by Meritor's Board of Directors, is expected to close by the end of this year.