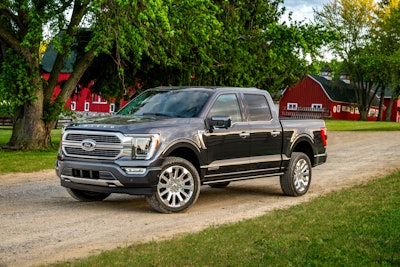 Ford
While it would be nice to know before shelling out thousands of dollars that the next pickup you buy is going to be problem-free, a study released this week could prove helpful in knowing which trucks to avoid based on their recall history.
A list of vehicles compiled by iSeeCars shows which ones are likely to have more recalls than other vehicles over their lifetime based on the number of recalls these cars and trucks have had over the past ten years.
Four pickups made the list of The 25 Most Recalled Cars. Coming in at #9 and #10 are the Ram 1500 and Ram 1500 Classic respectively; #11 is the Ford F-150; and at #23 is the Chevy Silverado 1500. Tesla Models Y, 3, X and S dominate the top 5 with Model Y having the most recalls of any vehicle on the market.
[Related: Ford F-150 and Toyota Tundra facing big recalls]
Recall data from the National Highway Traffic Safety Administration (NHTSA) was used to compile the list. Overall, an average of four recalls is expected over a 30-year timeframe but some vehicles are likely to have much more.
Both Ram trucks on the list are projected to have 5.13 times the average or 20.5 recalls over their lifetime; F-150 is projected to have 16.9 recalls or 4.23 times the average; and Silverado is projected to have 10.2 recalls or 2.55 times the average.
Conversely, iSeeCars also published a list of 33 vehicles with the fewest amount of recalls. No pickups made the cut. The MINI Cooper Convertible took the number one spot with .2 recalls projected over its lifetime.
In 2022 there were over 400 automotive recalls issued, impacting more than 25 million vehicles. The 2021 numbers were higher with over 1,000 recalls involving over 35 million vehicles.
"Recall rates can vary between makes and models," said iSeeCars' Executive Analyst Karl Brauer, "but the extreme variation in the number of recalls a car is projected to receive over its lifetime is something we didn't expect. For consumers who don't want to deal with a recall, the top models offer a substantially lower risk than even average models."