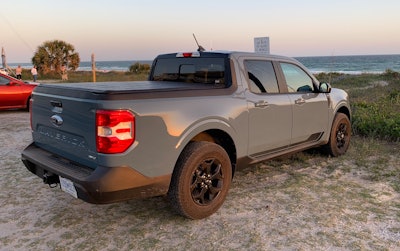 Tom Quimby
When you're hot, you're hot.
The Ford Maverick pickup remains such a popular vehicle that it's the only truck on iSeeCars list that's pricing higher used than new.
With an average used price of $36,777, it pays to buy a new Maverick which costs about $4,038 less resulting in 12.3% savings.
Karl Brauer, executive analyst at iSeeCars.com, said the popular pickup continues to fill a unique niche.
"The Maverick addressed a longstanding need — a truly compact pickup truck in a world where today's midsize trucks have gotten quite large," Brauer said. "The Maverick's maneuverable, urban-friendly size, plus its low starting price and standard hybrid engine as gas prices are spiking, make it a very desirable truck. These prices reflect all Maverick models, but I'm sure the bulk of them are the standard hybrid drivetrain."
Brauer sees Maverick maintaining strong sales for a while to come. Second on the list is the Toyotal Corolla hybrid, which costs on average 7.9% more used over new.
":The Corolla Hybrid is another high-value vehicle with excellent fuel efficiency, but it's not as unique as the Maverick because there are other compact car options with hybrid drivetrains," Brauer said. "The Maverick's unique combination of features will keep it in high demand for the foreseeable future."
iSeeCars.com analyzed over 8.9 million new and slightly used cars to identify 14 lightly used models with the highest price above their new car equivalents.
Used vehicles currently priced above new include hybrids like the Ford Maverick, two minivans, and three premium/special interest models.
Used vehicle prices have been on decline. Last year, lightly used cars averaged 8.5 percent, or $3,574, above their new counterparts.