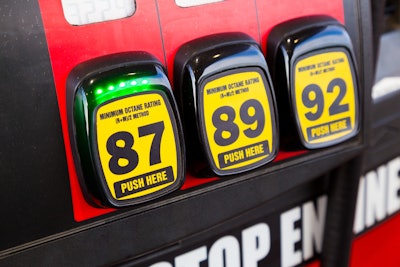 NATSO, the trade group representing truckstops and travel plazas, alongside SIGMA: America's Leading Fuel Marketers, and the National Association of Convenience Stores (NACS) on Tuesday pleaded via letter that the Environmental Protection Agency (EPA) authorize the summertime sale of gasoline blended with up to 15% ethanol (E15).
The trade groups' request comes on the heels of Sunday's announcement that OPEC+, a group of oil-producing countries led by Saudi Arabia and Russia, will cut oil output by 1.2 million barrels per day next month, sapping about 1% of oil from the global market.
The three groups collectively represent 90% of motor fuel sales in the U.S., and said in their letter to EPA that high inflation coupled with lingering supply chain disruptions and ongoing geopolitical unrest have created a volatile fuel supply market that is unlikely to change in coming months, adding that moving forward with an E15 blend ensures consistent gasoline supply and lower fuel prices for consumers during the summer driving season.
"Total gasoline inventories are lower today than they were last year when EPA issued waivers to address the nation's fuel supply," the organizations wrote to EPA. "None of these trends appear likely to dissipate in the coming months. This will result in continued, increasing pressure on transportation fuel markets that will make it challenging to ensure consistent gasoline supply across the nation."
In April 2022, EPA issued a waiver to allow E15 gasoline sales nationally, and intended for it to lapse at the end of May that same year. Instead, the waiver was extended six times before expiring in mid-September. The groups noted the initial waiver was granted last year that when fuel inventories were higher than they are today.
While current fuel supplies are adequate to meet demand, the groups contend that summertime E15 sales help insulate consumers from disruptions in the fuel supply or higher costs in the event of unforeseen circumstances that tighten supplies.
Tom Kloza, global head of energy analysis for Oil Price Information Service (OPIS), noted that states in the Northeast will switch to "summer gas" in about two weeks, and a 20-cent per gallon premium will likely soon follow. Other areas of the country are already using the summer blend, he noted. Summer-grade gasoline has a lower volatility than winter-grade gasoline to limit evaporative emissions that normally increase with warm weather and cause unhealthy ground-level ozone. The federally mandated dates for summer-grade gasoline and reformulated gasoline, where required, run from May 1 to Sept. 15 for refiners and terminals, and June 1 to Sept. 15 for gasoline retailers, according to the U.S. Energy Information Administration.