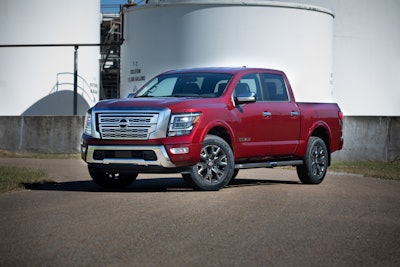 Nissan
Nissan has been named No. 1 in satisfaction among truck brands in dealership service in the J.D. Power 2023 U.S. Customer Service Index (CSI) Study.
This year's study is based on responses from over 64,000 registered owners and lessees of model-year 2020 to 2022 vehicles. With a score of 886 out of 1,000 possible points, Nissan ranked highest among truck brands – 48 points above the segment average.
[Related: Nissan Frontier review reveals better than expected mpg]
The J.D. Power 2023 U.S. Customer Service Index (CSI) Study, now in its 43rd year, measures satisfaction with service at franchised dealer or aftermarket service facilities for maintenance or repair work among owners and lessees of one- to three-year-old vehicles. Customers rated Nissan highest across all five of the study factors evaluated within the truck segment: Service Quality, Service Facility, Service Advisor, Service Initiation and Vehicle Pickup.
Nissan offers three model year 2023 pickups to choose from: the midsize Frontier, the full-size 1/2-ton Titan and the larger 5/8-ton Titan XD.
Frontier comes standard with a 310-hp 3.8-liter direct injected V6. Titan comes standard with Nissan's 5.6-liter Endurance V8 which offers 413 lb.-ft. and best-in-class 400 horsepower (premium fuel required).
[Related: Canada nixes Nissan Titan. U.S. next?]
Titan is powered by Nissan's 5.6-liter Endurance V8 gasoline engine rated at 400 horsepower and 413 lb-ft of torque. Standard horsepower is the best in class1 for V8 powertrains (premium fuel required).
Buyers who prioritize serious towing and hauling can step up to the 2023 Titan XD, which combines the comfort and drivability of a light-duty truck with the towing confidence of a heavy-duty hauler. Titan XD is powered by the 5.6-liter V8.