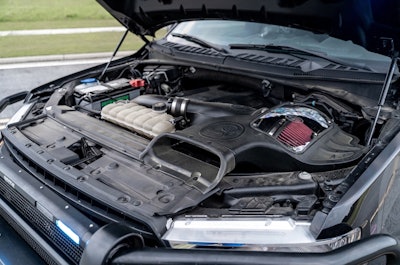 Steeda
Hot pursuit takes on new meaning with the Steeda Special Service F-150.
Steeda can take a Ford F-150 and transform it into a formidable law enforcement pickup capable of delivering up to 775 horsepower. For those keeping score, that's 73 more horses than Ram TRX and 75 more than Ford Raptor R.
Of course, Steeda offers other options that don't dial up as much power and are easier on the budget.
The Steeda EcoBoost Intercooler available for Ford's 2.7- and 3.5-liter models provides over 50% more volume than Ford's factory charge air cooler and adds up to 15 more horsepower.
S&B Filter's cold air intake offers 40% more air flow over stock which according to Steeda results in better "horsepower, torque, throttle response and fuel economy." S&B's extendable series filters last up to 30,000 miles between cleanings.
[Related: Watch 2023 Ford Raptor R roar to max power in Hennessey dyno test]
There's also the SCT X4 handheld tuner which connects to the F-150's OBD2 port and increases performance through pre-loaded or custom tunes. The tuner also displays engine performance data. A mounting kit is available.
But those looking for serious muscle can turn to the to the 5th Generation Stage 2 Whipple Supercharger which transforms Ford's 5.0 liter V8 into a 775 hp beast. The supercharger is legal in all 50 states and clears the stock hood.
Steeda can modify a two- or four-wheel drive F-150 and offers suspension packages to lower, level or raise the truck.
Wheel options include Velgen's six-spoked VFF-6 which not only give the truck a distinct look but are also lighter and stronger than conventional cast wheels.
"The Steeda Special Service Program was developed to take out-of-the-box pursuit vehicles and transform them to conquer any terrain, on or off-road," a company description reads.
Steeda's first SSV F-150 went to the Lowndes County Sheriff's office in south Georgia not far from Steeda's company headquarters according to Fox News Digital.
The two-wheel drive crew cab F-150 XL has lowered suspension, Velgen wheels and S&B Filter's cold air intake. The 3.5-liter V6 has been tuned to deliver 400 horsepower.