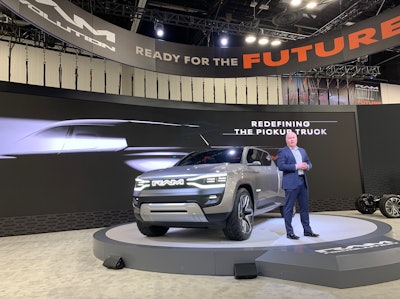 Hard Working Trucks
Ram CEO Mike Koval is turning to Ram dealers to help determine the fate of a midsize truck redux in the U.S.
It's no secret that a midsize Ram pickup is available in markets outside the U.S. particularly in South America. Ram forums have frequently pointed that out in discussions concerning a possible reintroduction of a midsize Ram in the U.S.
And it's not like Koval's not listening. He told Hard Working Trucks at the Work Truck Show in Indianapolis this week that he sees the midsize segment as "the biggest white space opportunity for our brand to grow really on a global basis." And that includes the U.S.
Ram's last midsize entrant in the U.S., Dakota, which was sold under their prior name Dodge, was produced in the U.S. for model years 1987 to 2011. Since then, Ford reintroduced the midsize Ranger in 2018 to go up against Chevy Colorado, GMC Canyon, Nissan Frontier, Honda Ridgeline and the dominant Toyota Tacoma.
[Related: Ram gunning for competition with all-electric pickup]
Things got even more interesting with the recent return of compact trucks (which are really midsize trucks of 20 years past) with the Ford Maverick and the Hyundai Santa Fe.
So yes, the-less-than-full-size truck market is crowded which has Koval turning to dealers on the frontlines to lend a hand in helping him determine what kind of midsize Ram might strike a chord with customers.
"I plan to show dealers at a business meeting in Las Vegas at the end of this month, a concept version of a mid-size," Koval said. "We'll see how it goes. If I get a thumbs up, I know I'm heading in the right direction. If they throw something at me, I know what that means too and then we'll go from there."
But you have to strike when the iron's hot and right now, as Koval pointed out, it's markets abroad where Ram is enjoying faster growth rates compared to the U.S. where regulations can bog down progress.
"We are a global brand," Koval said. "Sometimes I even have to remind myself of that. Yes, historically, roughly 90 percent of our businesses is in North America, particularly in the U.S. but we're growing internationally as well.
"When you look at our volume in South America, the Middle East, even Australia, New Zealand, they love our brand. I attribute a lot of that to the TRX, by the way," Koval continued. "The TRX was the product that kind of pierced the veil and acted as that halo product for our brand."
Koval said international sales rose 40 percent from 2020 to 2021 and grew another 50 percent from 2021 to 2022.
"We have a really strong trend in our performance outside of North America so we'll continue to feed that," Koval said. "And then look, when you talk about bringing vehicles in and homologation and FMVSS, it's federalization, it's hard. It's never easy. But I'm absolutely looking at market by market, segment by segment opportunities to help the brand grow."