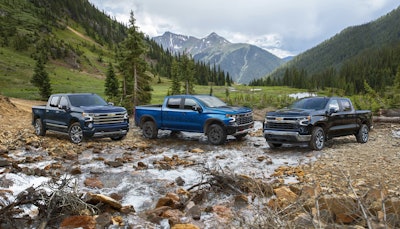 Chevrolet
General Motors will be pausing light-duty pickup production later this month as the automaker addresses inventory issues.
According to GM News Relations Director Dan Flores, manufacturing at GM's Fort Wayne Assembly production will be down for two weeks beginning March 27.
"The plant constantly reviews and adjusts production schedules according to customers' needs," Flores said. "All actions taken are in accordance with provisions of the UAW-GM National Bargaining Agreement and the local agreement."
[Related: Off-road grit and on-road luxury meet in the 2022 GMC Sierra AT4X]
Flores said the temporary shutdown does was anticipated given inventory levels.
"Our production is up over the past month while demand remains fairly consistent, leading to an increase in inventory," Flores said. "Therefore, as we stated on our earnings call, we are going to proactively manage inventory levels, including plant downtime. These kinds of actions were assumed in our 2023 financial guidance."
GM's website reports that the Fort Wayne Assembly plant in Roanoke, Indiana builds the Chevy Silverado and GMC Sierra. The 4.6 million square foot plant can build more than 1,300 trucks each day.