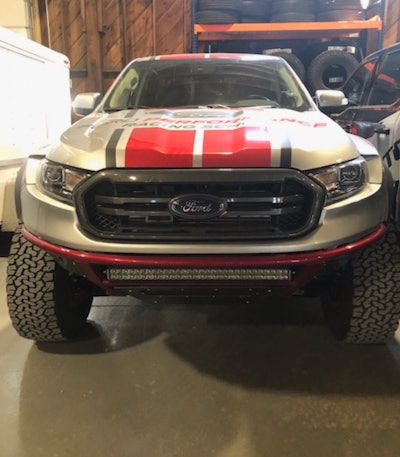 Ford Performance
If it looks like a duck…
Our friends at Ford Performance Racing School are selling a high-performance offroad Ranger which may have some wondering if they're looking at the highly anticipated Ranger Raptor, but unfortunately no.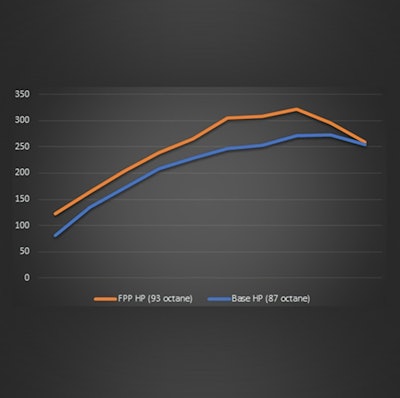 We've been assured that the midsize beast located at the school's offroad school in Tooele, Utah is not the Ranger Raptor. But wow…you'd swear that it could pass for one or at least a close cousin.
The lifted "one-of-a-kind Ranger" as Ford Performance calls it, resembles a SEMA build with aftertreatment equipment from an impressive list of suppliers like Baja Kits suspension, Icon Vehicle Dynamics, Impulse Offroad bed cage, KMC wheels, etc., etc.
When paired up with the Ranger EcoBoost Power Pack Performance Calibration, power jumps up to roughly 330 horses and 360 lb.-ft. torque which pushes it just slightly ahead of the high-performance 2.3-liter EcoBoost available with the 2022 Ford Mustang which delivers 330 horsepower and 350 lb.-ft. torque.
A stock 2023 Ford Ranger offers 270 horsepower and 310 lb.-ft. torque through an untouched 2.3-liter EcoBoost.
We're told that the truck has kept its stock 10-speed transmission. Other than that, Ford's not saying much else.
So, can it get airborne? Again, Ford's not saying. But with the Baja Kits suspension and a jump fairly close by that's used regularly by drivers attending Ford Performance's Raptor Assault school, we can't help but think that this "one-of-a-kind Ranger" has taken flight.
Ranger Raptor is available outside of the U.S. and is expected to make its debut in the U.S. for model year 2023. If it's anything like the Bronco Raptor, it may end up with the 418-hp 3.0-liter V6 which rips out 415 lb.-ft. torque. If that's the case, no other factory-built midsize currently on the market can come close.