Ford
As expected, the 2022 Specialty Equipment Market Association (SEMA) Show in Las Vegas delivered plenty of jaw-dropping pickup builds.
The most unusual arguably came from Real Truck and Motor City Solutions' Race Support F-150 Lightning. After all, electric pickups are still in their infancy so anyone that takes on accessorizing one definitely gets our attention.
Perhaps more surprising this year was the decline in the number of SEMA photos posted this year by OEMs. Randall-Reilly reporters were not able to make the trip to the big show this year, so we had to lean on truck manufacturers to come through with plenty of pictures. Surprisingly, there were not as many to choose from this year on OEM websites as in years past. GM has yet to post any 2022 SEMA pickup news so unfortunately we don't have any of their truck photos. If that changes, we'll be sure to do another post. Now onto the show...
Real Truck and Motor City Solution' F-150 Lightning comes equipped with an air compressor, leveling kit, off-road recovery boards and Recaro seats along with a fully mobile toolbox and welding equipment. The truck also gets a Retrax bed cover featuring a rail system, crossbars, and extra Raptor wheels ensuring that drivers are not stranded by a flat tire. A custom underbody skid plate protects the Lightning while the Kay Automotive graphics wrap, inspired by Bronco Desert Racer livery, makes this race support truck an unforgettable vehicle.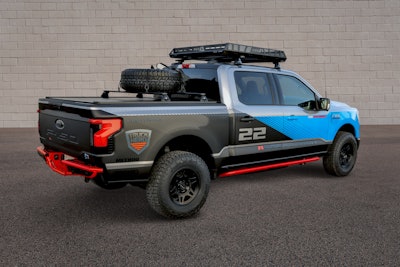 Ram and Jeep sweep
The Dodge, Jeep and Ram brands earned top honors last week at SEMA as show exhibitors voted for the top trend-setting vehicles that represent the best business opportunities in the automotive aftermarket. The group awarded the Dodge Challenger as SEMA Car of the Year, Jeep Wrangler as SEMA 4x4/SUV of Year, Jeep Gladiator as SEMA Mid-size Truck of the Year and Ram as SEMA Full-size Truck of the Year. Congratulations!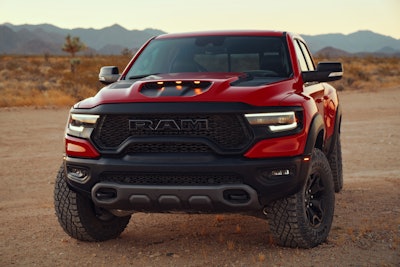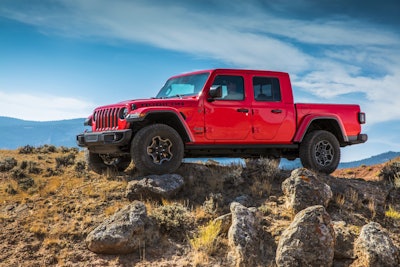 Off-road TV production muscle with Orion Tundra
The Orion Tundra from Expedition Overland, a popular TV show, turned plenty of heads with ICON Vehicle Dynamics 2.5 Series extended travel coilover shocks up front and ICON Vehicle Dynamics 2.5 Series Omega bypass rear shocks; a CBI Offroad Fabrication Covert front bumper with a WARN Zeon 12S 12,000-lb. capacity winch; CBI Offroad skid plates, side steps and rock sliders; and an ARB differential axle breather.
The Orion Tundra must operate as a mobile film production studio, so a REDARC RedVision battery management system, two Battleborn self-heated lithium batteries and two REDARC 200-watt monocrystalline solar panels provide the ability to charge camera and drone batteries, run a refrigerator and download each day's video footage.
As the team will be in sub-freezing climates in the Nordic regions, the Orion Tundra also must provide comfortable and, most importantly, warm shelter. It has a full-size Alu-Cab canopy camper system with a Webasto Evo 40 heating system to keep the crew and video gear warm, an Alu-Cab 13.2-gallon water tank, an ARB twin compressor, a National Luna 40-liter refrigerator, four Rigid 65-inch DC scene lights and a Goose Gear interior storage system. Finally, for communications and connectivity the team added an iCOM ID-5100A deluxe VHF/UHF dual band D-STAR transceiver radio and a Starlink RV satellite kit, mounted in a 42-liter Alubox.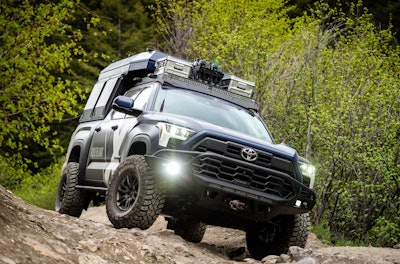 Nissan Frontier gets V8 power
The NISMO Off Road Frontier V8 concept takes the midsize truck to a new level of performance, ready for Baja-style desert running. The concept shows off a range of new NISMO Off Road accessory parts that will be available from Nissan dealerships soon, as well as some prototype NISMO Off Road parts that may be available in the future.
Built by Forsberg Racing, the Nissan Frontier concept features the 5.6-liter V8 engine sourced from a Titan full-size pickup truck, equipped with a custom NISMO Off Road cold air intake and cat-back exhaust system. The truck also has a wide-track suspension created with lower control arms, front spindles, wheel hubs and rear axle from a Titan.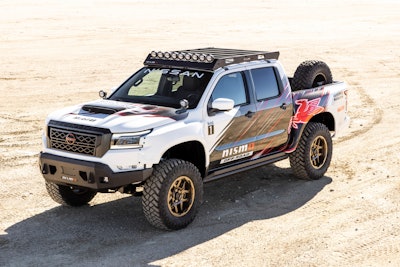 The suspension also features custom upper control arms and NISMO/Bilstein coilover shocks and custom rear leaf spring pack with NISMO/Bilstein external reservoir shocks for increased ride height and payload capacity.
To help accommodate the new, wider suspension, the Frontier concept received a custom wide body kit with carbon fiber front fenders, hood and bedsides, plus a prototype NISMO Off Road front bumper that improves the truck's approach angle and tire clearance.
Additional components include:
NISMO Off Road Axis 18 x 9 inch wheels with 295/70/18 mud-terrain tires
Prototype NISMO Off Road rock rails
NISMO Off Road roof rack
Prototype NISMO Off Road in-bed spare wheel-and-tire carriers
NISMO Off Road LED lighting
Warn winch