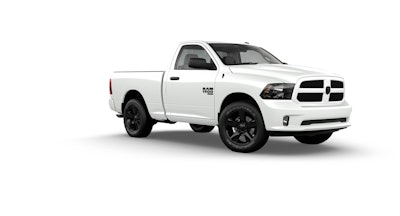 Ram
Regular cab, short bed trucks are about to become even more of an endangered species as Ram moves to pull the plug on what used to be a more common pickup.
First, let's define short. Ram's shortest bed at five-foot, seven inches has been available only with a crew cab. Other OEMs have also been pairing up their shortest beds with their crew cabs and lengths can vary.
In this case, Ram confirmed that their regular cab with a six-foot, four-inch bed currently available on 2022 Ram 1500 Classic Tradesman and Express will be discontinued for the 2023 model year.
"You can still get the regular cab with the 8ft long bed though," a Ram spokesperson said.
Look for that on the 2023 Ram 1500 Classic Tradesman which is currently the only Ram pickup that carries those old school specs for model year 2022. As of publishing time, Ram has not yet updated its online 'Build & Price' truck builder to include model year 2023.
[Related: Nissan Titan discontinued in Canada. U.S. next?]
As with other pickups brands through the years, customers have increasingly spec'd Ram trucks with cabs that provide back seats. In Ram jargon, that would be the crew cab or smaller quad cab.
Regular cab, half-ton trucks have continued to roll out though it's become apparent to anyone remotely paying attention that they're now more of an anomaly than the norm.
Ford, which offers more pickup options than any other OEM, still pairs up a short bed (six-foot, six-inch) and regular cab for its 2023 F-150 XL and XLT.
The 2023 Chevy Silverado can be optioned with a regular cab and a six-foot, seven-inch box.
Nissan gave the regular cab a shot starting with its 2017 Titan and Titan XD. Available only with an 8-foot bed, the truck was pulled from production by model year 2020.