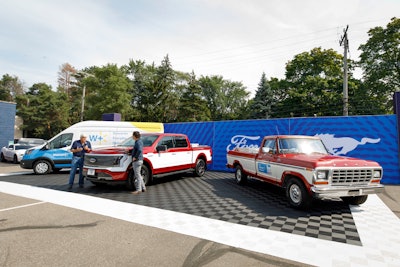 Ford
Walmart founder Sam Walton's influence lives on in more ways than one.
His famous 1979 Ford F-150 Custom inspired popular comedian and auto enthusiast Jay Leno to pay tribute to him with a 2022 F-150 Lightning painted to match the late billionaire's 43-year-old pickup.
Not only that, but the bed of the all-electric F-150 also has a dog box and tool box to match Walton's truck. Leno revealed the truck alongside Walmart CEO John Furner this past weekend at the Woodward Dream Cruise in Ferndale, Mich. Leno, Walmart and Ford collaborated on the project.
Walmart is no stranger to Ford EVs. Ford Pro announced the retail giant's order of more than 1,100 E-Transit vans, of which more than 1,000 have already been delivered to their stores across the country helping solidify E-Transit's electric van leadership, which according to Ford Pro enjoys a 95 percent share of the U.S. market.