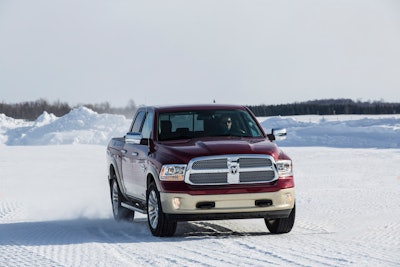 Ram
FCA will reportedly plead guilty to emissions tampering on the 3.0-liter EcoDiesel found on some Ram 1500 trucks and Jeep Grand Cherokee SUVs.
The U.S. Justice Department and FCA are close to striking a deal that will cost parent company Stellantis upwards of $300 million in penalties according to Reuters.
The six-year investigation has focused on roughly 100,000 Ram 1500 pickups and Jeep Grand Cherokee SUVs for model years 2014 to 2016.
The investigation resulted in the arrests of three Stellantis employees which the Justice Department reported earlier this year:
According to court documents, Sergio Pasini, 43, of Ferrera, Italy, and Gianluca Sabbioni, 55, of Sala Bolognese, Italy, two senior diesel managers at Fiat Chrysler Automobiles Italy S.p.A. (FCA Italy), a wholly owned subsidiary of Stellantis N.V. — along with a previously charged co-conspirator, Emanuele Palma, 42, of Bloomfield Hills, Michigan — were responsible for developing and calibrating the 3.0-liter diesel engine used in certain FCA diesel vehicles.
Their responsibilities included calibrating several software features in the vehicles' emissions control systems to meet emissions standards for nitrogen oxides (NOx), a family of poisonous gases that are formed when diesel fuels are burned at high temperatures, while also achieving best-in-class fuel efficiency targets set by FCA US LLC.
The superseding indictment alleges that Palma, Pasini, Sabbioni, and their co-conspirators, purposely calibrated the emissions control functions to produce lower NOx emissions under conditions when the subject vehicles would be undergoing testing on the federal test procedures or driving "cycles," and higher NOx emissions under conditions when the subject vehicles would be driven in the real world.
Trials for the men are set to begin in the U.S. next year.