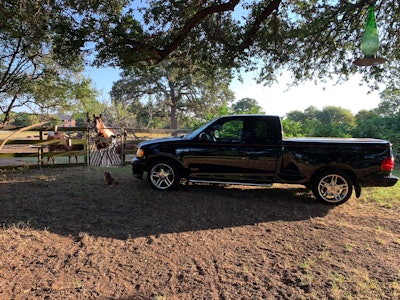 Lori Lewis
Think of a farm or ranch truck and typically images of dusty, rusty and dinged up pickups come to mind.
That's definitely not the case for Lori Lewis in Dallas, Texas whose 2000 Ford F-150 Harley-Davidson has held up exceedingly well on her ranch where it's been put to work hauling her horse—named Harley—and plenty of cattle chow.
Lewis bought the truck new 21 years ago. The stout 5.4-liter Triton V8 is paired up with a 4-speed automatic that delivers 260 horsepower and 350 lb.-ft. torque. Payload is rated at 1,755 lbs. –that's a lot of cattle chow—and max towing comes in at 8,700 lbs.
"It's been an awesome ride for 261,000 plus miles!" Lewis said. "Thank you to Ford and Harley for a fun ride."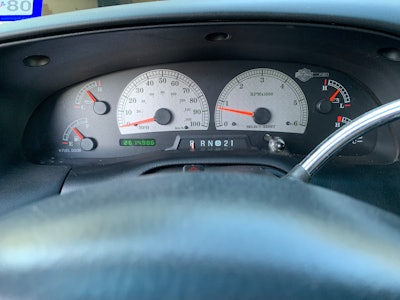 This dedicated Harley fan, who also opted for Craftsmen Harley-Davidson edition cabinets in her garage, said it was ultimately the look of the pickup and the seats that convinced her plunk down nearly $33,000 for the collectible truck which she proudly drives as her daily commuter.
She said the truck's not had any major repairs and that she's kept up the F-150's dependable performance through regular maintenance at the hands of an "awesome mechanic friend!"
Careful to go the extra mile, Lewis avoids automatic car washes and instead opts for hand washing and waxing. Plastic and rubber components are regularly treated to keep up their good looks as well.
With only about 4,000 first edition F-150 Harley-Davidson trucks being produced for model year 2000, Lewis has an impressive piece of truck history that includes dedicated auto collector Jay Leno whose unique supercharged 2000 F-150 Harley sold for charity in 2016 at a pricey $200K.
Supercharged or not, pickups like these hold their value well. A 2000 F-150 Harley for sale in Ft. Myers, Fla. is priced at $26,195. Carfax.com reports that truck has only 14,696 miles.