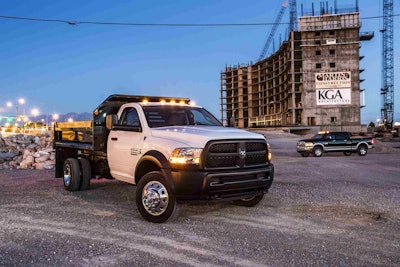 Over 250,000 Ram trucks and roughly 410,000 GM trucks are being recalled over concerns of an air bag inflator that may eject shrapnel when ruptured.
Ram's voluntary recall effects 212,373 model year 2015-20 Ram 3500 pickups and cab-chassis vehicles, 2500 pickups and previous-generation 1500 pickups, now known as the Classic. The current-generation Ram 1500, which launched in model-year 2019, is not affected.
FCA reports in a press release that "certain vehicles may be equipped with air-bag inflators that were contaminated by moisture during the supplier's manufacturing process. Such inflators may rupture, even without air-bag deployment, possibly sending debris into the cabin."
FCA is aware of one rupture involving a defective inflator in a Ram truck. No injuries were reported.
FCA confirmed with Hard Working Trucks that the recall is not related to the Takata air bag recall that impacted roughly 2.9 million vehicles in the U.S. FCA would only say that the inflators were produced by a supplier implicated in a similar recall by another auto maker.
Last month, General Motors recalled 410,019 trucks in the U.S. equipped with roof rail air bag inflators that the automaker warned could discharge shrapnel upon rupturing. The recall applies to certain model year 2015-2016 Chevy and GMC Sierra 1500, 2500 and 3500 trucks. The Joyson Safety Systems inflators were produced in Mexico.
Notification letters to GM truck owners were expected to be mailed this week according to the National Highway Traffic Safety Administration. Owners may contact GMC customer service at 1-888-988-7267 or Chevy customer service at 1-800-222-1020.
Ram customers will be notified for service appointments and may call 1-800-853-1403 for additional information.
The Ram recall affects additional vehicles in Canada (est. 42,532), Mexico (est. 3,802) and certain markets outside North America (est. 4,540). A small number of inflators sold as replacement parts are also subject to recall.