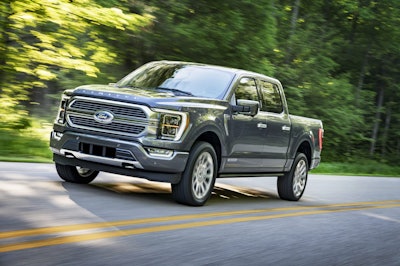 Ford
When it comes to best-selling vehicles, the Ford F-150 is no longer king of the mountain according to second quarter sales results.
As the semiconductor shortage continues to hamper vehicle production, OEMs like Ford are seeing sales numbers for their most popular vehicles tumble while dealers are cranking up prices on harder-to-find new and used vehicles, particularly pickups.
An AutoTrader ad I spotted this week had a 2021 F-150 XLT going for nearly $63K. Granted, it's an FX4 package, but it's still priced so high above MSRP that it had the Kelley Blue Book price gauge arrow pegging hard to the right in the red.
In the meantime, sedans emerged as the fastest-selling new and used vehicles for July according to a recent iSeeCars report. Will skateboards be next to make the list?!
To help make more sense of this ongoing chip shortage drama, I turned to iSeeCars Executive Analyst Karl Brauer with a brief Q&A. Long story short, fasten your seat belt. Chip shortage fallout is not going away anytime soon.
HWT: Not one pickup made the Top 10 list for iSeeCars fastest-selling vehicles in July. Have new and used pickup inventories been so heavily drained and prices so inflated that consumers are simply avoiding them?
Brauer: The Ford F-150 saw a 26 percent sales decrease in July 2021 over 2020, and for the first time in recent memory, it was not the best-selling vehicle in the second quarter of 2021. This is a result of the microchip shortage and reduced inventory. GM has been able to prioritize production of its full-size trucks by building them with fewer chips, while Ford has thousands of incomplete trucks sitting outside factories.
However, it's worth noting that this analysis measures days to sell rather than sales volume. Even under the best circumstances, the F-150 is not likely to make the fastest-selling list due to its inventory levels relative to other vehicles. The F-150 is still very much in demand, and it will likely regain its sales title once Ford is able to source its incomplete F-150s with chips. It's below average selling time for July is likely a reflection of its current inventory being full of less desirable trims.
The only pickup to make the fastest-selling new car list was the Toyota Tacoma, which saw a 35.3 percent sales increase in July 2021 over 2020. For midsize trucks, the Tacoma is in high demand and Toyota was able to dedicate its limited number of chips to the popular model.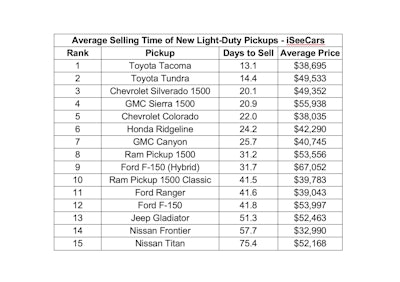 Brauer (continues): Categorically, pickup trucks saw the third highest used car price increase behind convertibles and coupes based on our June 2021 used car price analysis. The Ram 1500 and the GMC Sierra 1500 were among the top 10 vehicles with the highest price increases, while the Chevrolet Silverado 1500, Ford F-150 and the Toyota Tundra also had above-average price increases. Compared to other vehicle segments, pickup trucks are unique in that many consumers don't have the option to wait for prices to come down because they are often required for work purposes. Consumers are willing to pay the premium for used versions, likely because the new version they want may not be available, and because they need them as soon as possible.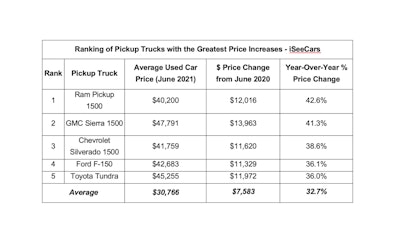 HWT: I saw a 2021 Ford F-150 XLT selling for nearly $63K on AutoTrader. Not on the dealer lot, but in transit. We're not talking a Raptor--this is an XLT. Can we expect prices to just keep on rising? Any indicators hinting at some relief?
Brauer: We have seen wholesale prices starting to decrease beginning in June, and it usually takes about two months for this to be reflected in the retail market. This indicates that used car prices have peaked, but they will likely remain inflated for the remainder of the year.
Dealers are charging above MSRP for high demand models and some lightly-used cars currently cost more than their new versions. Once new car inventory levels stabilize, which is expected to happen in the beginning of 2022, we will see prices for both new and used cars come back to pre-microchip shortage levels.