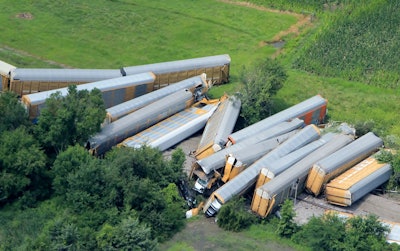 Del Buckman - Facebook
At a time when automakers are struggling to produce vehicles during a semiconductor shortage, one major manufacturer was set back even further thanks to a train derailment.
Roughly 44 Norfolk Southern train cars carrying new Ford F-150 pickups, Transit vans and wheat tumbled off the tracks last week in Missouri leaving the highly sought-after vehicles in ruins according to the Detroit Free Press. No injuries were reported.
[Related: GM shutting down truck production again over chip shortage]
A photo posted on social media last week by helicopter pilot and photographer Del Buckman shows the railroad cars strewn on the ground next to the tracks in northeastern Missouri near St. Louis. New Ford vehicles can be seen in some of the cars.
The Missouri State Highway Patrol said the Aug. 2 derailment was the third this year in the state.
"We haven't gotten to the bottom of it," Cpl. Justin Dunn told Free Press. "Their (railroad) personnel comes in and does their own investigation and figures out the cause and what substantiates the issue. They clean up their derailments on railroad property."