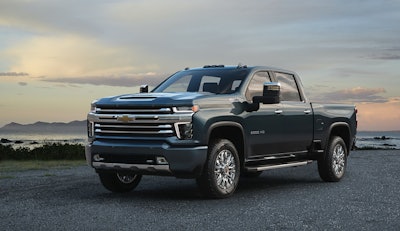 Chevrolet
An ongoing semiconductor shortage has led to another truck production pause at GM at a time when constrained inventories of new vehicles continue to keep used vehicle prices at historically high levels.
The latest shut-down at GM, which will take place during the week of Aug. 9, follows a prior week-long truck and SUV production shut-down for the manufacturer that ended Aug. 2.
"The recent scheduling adjustments have been driven by temporary parts shortages caused by semiconductor supply constraints from international markets experiencing COVID-19-related restrictions," a GM representative said.
"The global semiconductor shortage remains complex and very fluid," the representative continued. "GM's global purchasing and supply chain, engineering and manufacturing teams continue to find creative solutions and make strides working with the supply base to minimize the impact to our highest-demand and capacity-constrained vehicles, including full-size trucks and SUVs for our customers."
iSeeCars Executive Analyst Karl Brauer, who's been keeping a close eye on escalating used vehicle prices, said GM's move to tamp down production likely means a continued trend of escalated used vehicle prices.
"As its most profitable products, GM's shut-down of truck production confirms the ongoing severity of the global chip shortage," Brauer said. "Trucks prices are among the highest we've seen on the new and used market, and upward pressure will continue until full and consistent production returns."
An iSeeCars study found that used vehicle prices in June increased an average of 33% year-over-year. Used pickup prices surged 38.6% over that same time.
GM will resume full truck production on Monday, Aug. 16. Affected plants are Flint Assembly in Michigan which builds the Chevy Silverado HD and GMC Sierra HD trucks; the Ft. Wayne Assembly plant in Indiana which produces the Silverado 1500 and GMC Sierra 1500; and Silao Assembly in Mexico which makes the Silverado 1500, Cheyenne (for Mexico) and GMC Sierra 1500.