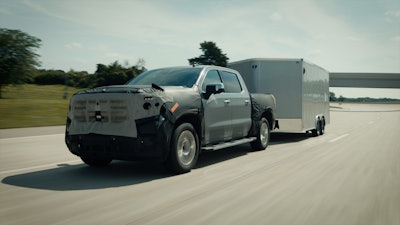 GMC
The self-driving truck market continues to grow with the GMC 2022 Sierra 1500 Denali.
The pickup gets the latest version of Super Cruise which allows for hands-free driving while towing—something that Ford does not recommend with their BlueCruise self-driving system on the 2021 Ford F-150.
As with Ford's BlueCruise, drivers using GMC's Super Cruise must pay attention to the road ahead. Both systems can detect if the driver's attention is diverted elsewhere and, following a warning, will disable hands-free driving if the driver does not resume focus. Both systems are also SAE Level II, or partial automation, which requires driver involvement and can't perform more advanced tasks such as passing a horribly slow driver.
[Related: Self-driving 2021 Ford F-150 lowers driver stress]
GMC is flexing some muscle not only with the ability to tow while driving hands-free but also claiming to be a pioneer in the fast-growing field of autonomous driving. Check out an excerpt below of their press release:
Super Cruise, the industry's first true hands-free driver-assistance system, utilizes a driver attention system and precision LiDAR generated map data in addition to real-time cameras, sensors and GPS. The driver attention system uses a small camera located on the top of the steering column and works with infrared lights to determine where the driver is looking whenever Super Cruise is in operation. If the driver attention system detects the driver has turned their gaze away from the road ahead for too long, the steering wheel light bar will prompt the driver to return their attention to the road.
Towing in self-driving mode with an all-electric pickup will probably prove more advantageous since electric motors powering the wheels can offer very precise torque vectoring and make quick adjustments in various driving conditions. This might reduce jack-knifing and lead to better overall vehicle control on challenging roads.