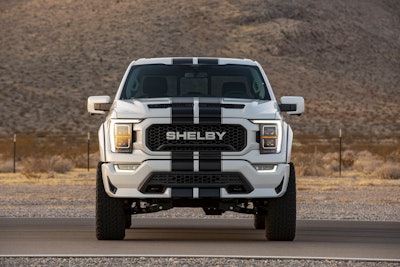 Shelby
It's got the graphic '775 hp' clearly on the passenger door as if it to remind stunned drivers that hasten for a look that they've just been passed by a pickup that's not to be taken lightly.
And that includes owners of Ram's 1500 TRX.
The new 2021 Shelby F-150 certainly seems to hint at the highly anticipated Ford Raptor-R which will be equipped with a supercharged V8 designed to make up for the embarrassing deficit between the current V6 Raptor, at 450 horses, and the supercharged 702-hp V8 dynamo found in the TRX.
Built on the 2021 Ford Lariat, Shelby bolts on a supercharger to take the 395-hp Coyote V8 to new heights, adds Raptor-like suspension and kicks up the interior several notches. MSRP starts at $114,980. Production will not exceed 600 trucks for model year 2021.
"Working with amazing partners Whipple and Borla, the optional supercharger pumps out an impressive 775 horsepower with a hair raising-tone that is uniquely Shelby," a press release from Shelby states. "The system gets the most out of the perfected Ford 5.0L V8 Coyote platform."
Is this a glimpse at the Raptor-R? Don't bet on it. With motorheads already snatching up crate versions of Ford's new 7.3-liter Godzilla V8, you can bet that Ford will be playing for keeps and, I'm betting, reach 1,000 horses. Cue Blue Oyster Cult's Godzilla. Ford's not taking the TRX whoopin' from Ram lightly.