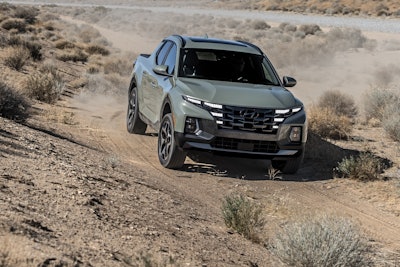 It's definitely not your dad's compact truck. In fact, Hyundai isn't calling its new 2022 Santa Cruz a truck even though it has a pickup bed, can tow stuff (okay, maybe not that much stuff) and is off-road capable.
In a marketing effort that recalls Chrysler's Corinthian leather push in the 1970s (yes, I was around to watch the original commercials), Hyundai is calling its little pickup a Sport Adventure Vehicle or SAV. Whatever they call it, it looks like fun. Seriously, I'd like to take it off-roading on our course here in Florida and see how it compares with our four-wheeler. Okay, it's much more powerful than that. Even the cool compact trucks that I grew up with in the '80s wouldn't stand much of a chance.
The Santa Cruz's two powertrain options include a 190-hp 2.5-liter direct-injected in-line four-cylinder engine that cranks out 180 lb.-ft. of torque and a turbo version of the same engine that steps up to 275 horses and 310 lb.-ft. torque. The 190-hp engine is paired up with an 8-speeed hydraulic automatic while the turbo variant gets an 8-speed dual-clutch automatic. Available all-wheel drive can dig into plenty of dirt.
Not bad. The 1984 Toyota pickup that survived my driving lessons in the '80s had a 105-hp in-line four-cylinder engine bolted to a four-speed manual because learning to drive a stick back then was pretty much a requirement.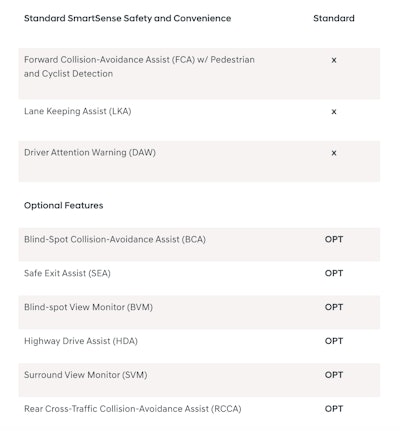 Not anymore. Plus driving the Santa Cruz becomes even less demanding with Hyundai's Highway Drive Assist which can drive the truck on interstate highways so long as you keep your hands on the steering wheel which Tesla also requires with Autopilot. Other driving aids are listed to the right.
While Santa Cruz isn't exactly a tow beast, it's got some respectable numbers for its small size. The 195-hp variant has a max tow rating of 3,500 lbs. while the 275-hp model can tow up to 5,000 lbs.
The small bed in Hyundai's pickup can expand to about a five-foot length with the tailgate down. Payload capacity maxes out at a little over 600 pounds. A retractable cover offers lockable storage.
Front and center inside the truck is an edgeless infotainment screen that is available as a 10-inch display with the premium center stack. Eight-inch is standard. Bose audio is available with the premium package. In the back of the truck, lift up the rear seats for access to storage bins.
Santa Cruz is available with 20-inch alloy wheels with wide, all-season, all-terrain tires. Those looking for bigger sidewalls for off-roading can opt for 18-inch wheels instead.
With an overall length of 195.7 inches and a tight turning radius of 20 feet, Hyundai is banking that the Santa Cruz will go over well in dense urban areas where parking is tight. If the price is right, fleets might find it to be a convenient and strong little parts getter that will help keep drivers out of trouble with plenty of driver assist features.
Hyundai will begin taking reservations for Santa Cruz later this month. The truck will begin rolling out of Hyundai's factory in Montgomery, Ala. later this summer. Prices haven't been released yet.