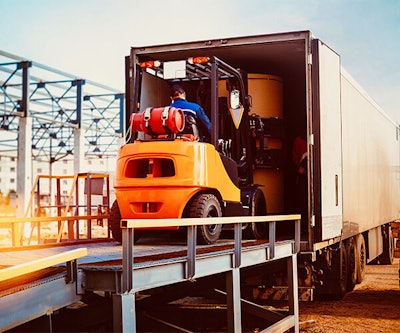 NEXT Trucking
The global pandemic caused tremendous pricing fluctuations, with shippers scrambling to find capacity and showing a willingness to pay "whatever it takes" to get their goods where they are needed. Steamship lines (SSL) saw trans-pacific rates climb beyond $20k per container, more than quadruple anything that resembles "normal" pricing. In trucking, rates in both the spot market and contract lanes were very high, though the rising prices of fuel slightly offset the increased income.
However, we're seeing a market correction in which rates and tender rejections are falling. Warehousing space is incredibly tight around the nation, limiting major retailers' ability to accept goods. For example, Target's leadership explained a plan to liquidate their inventory by slashing prices to the point where they're generating almost no margin as a way to open up shelf space for holiday goods.
For trucking companies, these issues are compounded with sky-high fuel rates and increased employment costs. For years, the trucking industry has gotten by poaching drivers from other companies and using sign-on bonuses as an incentive. Today, however, the industry is running out of drivers to poach.
Here are three changes fleet and trucking company leaders should be making to protect their business during an economic downturn.
Track everything
When the economy is booming, it's easy for carriers to calculate a quick rate-per-mile or rate-per-job, identify highly profitable loads and issue the proposal/invoice. But when things are tighter, it becomes critical to understand all the "hidden" costs associated with a load. Don't ignore fuel breakouts, maintenance cost and operational cost. This means understanding the cost of fuel for each shipment and the way vehicles are being operated and how much 'busy' work employees are doing. Deadhead miles and idle time are the quickest way to see margin leakage. Nothing hurts a carrier's margin more than to pay for miles no one is making money on. Using Freight Tech platforms to help find backhauls has never been more critical than during a soft market.
Do more with less
There is a common industry belief that technology is a cost center. If a fleet can run via a free spreadsheet solution like Google Drive, isn't the added expense of a TMS increasing the company's overall spending? Try looking at it differently. Allow the latest tech enhancements to limit operational overhead. GPS, ELD's and apps allow for live tracking and immediate data sharing with a shipper. Being tech-forward saves operational costs and increases customer satisfaction.
This line of thinking ignores the value that getting off of spreadsheets can have. For instance, it's possible to use a TMS that includes document capture and upload via a cell phone camera. Also, a TMS allows for better route optimization and helps a driver become more productive. This allows a trucking company's employees to do more meaningful work than scanning in PODs. It's possible to get more out of a team by eliminating the "busy work." Here is a link to many more examples.
Be attractive to shippers
With a downturn in volume, it has never been more important to positively stand out to your customers. Deliver amazing customer service by being willing to use customer technology. Customer wants you to use their portal? Not a problem. Customers want you to use an app? Not a problem. This is the time to step up your game and adapt to customer requirements. Let the customer know you are investing in their success by investing in technology.
Diversify income streams
It may sound trite to say, "increase your number of customers," as a solution to surviving an economic downturn. Still, there are many ways to diversify your customer base without assuming a huge burden.
Dozens of digitally enabled freight brokers and marketplaces can provide opportunities to find more loads. Companies like Uber Freight, Convoy, NEXT Trucking, and Flock Freight make it so carriers can find enough work to keep the wheels turning. While all have their nuances, each of these companies can provide a lifeline to the trucking community at large.
A low tide lowers all ships, even beaching some of them. However, companies that become more stringent in their tracking, increase the value of their employees, and create new revenue opportunities will survive this downcycle and be well-positioned for the next economic uptick.
HWT contributor Corey Riggins is vice president of carrier operations at NEXT Trucking, a FreightTech pioneer and drayage leader, overseeing trucking capacity for the company's marketplace. Prior to NEXT, Riggins spent more than 5 years in leadership roles with C.H. Robinson. Before entering the logistics industry, Riggins served in the U.S. Navy as a 2nd Class Petty Officer, Submarines.