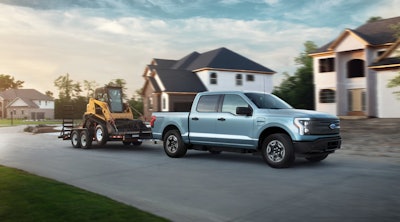 Ford
What in the wide, wide world of sports is a-going on here?!
It's a memorable line uttered by the inimitable Slim Pickens in Mel Brooks' inimitable Blazing Saddles and it came to mind when I read a joint press release issued recently by the Big Three announcing their "collective commitment" to dramatically step up production of zero-emission and hybrid vehicles to keep in step with Paris climate goals.
Again…what in the wide, wide world of sports is a-going on here?
I can't help but imagine Pickens, who also has a Chevy truck commercial to his name, uttering that line again—or maybe riding a rocket a la Dr. Strangelove straight into what has to be one of the strangest shared statements ever forged by automakers.
There's simply nothing that can compare to it save for the government-directed factory production shutdowns during World War II which had OEMs cranking out vital equipment for U.S. armed forces in the fight against the Axis powers.
But what's the critical factor driving this strange, collective, kumbaya moment among Chevy, Ford and Stellanits? We're not exactly at war with anyone. Or are we? If anything, it's a qausi-war for economic and technological supremacy.
Though President Joe Biden has voiced his concerns in the past about China taking the lead in zero-emission vehicle production, the Big Three's seminal statement makes no reference to the growing superpower, which as you might recall, surpassed Japan about ten years ago to become the world's second strongest economy.
China, the world's largest consumer of battery-building lithium, has been far ahead in the lead for years with zero-emission vehicle production. China is home to the world's largest EV company, Build Your Dreams (BYD), which former California Governor Jerry Brown welcomed into California where they set up a factory and not long after announced its expansion. BYD trucks and buses have been making their way across the country as increasing regulations continue to call for the proliferation of zero-emission vehicles.
Other competitors, namely Tesla, have also enjoyed growing business with government help. So now Detroit's worried automakers, heavily invested and emboldened by the notion of guaranteed success, are tugging at Uncle Sam's trousers asking for help, and Biden is more than happy to oblige with concerning goals like expanding the nation's charging infrastructure by an astounding 1400%.
In their brief, 201-word treatise, the Big Three announced "their shared aspiration to achieve sales of 40-50% of annual U.S. volumes of electric vehicles (battery electric, fuel cell and plug-in hybrid vehicles) by 2030 in order to move the nation closer to a zero-emissions future consistent with Paris climate goals."
The next two sentences really speak to a fundamental market shift that the Big Three insist will have to be led by the federal government—not laissez-faire, the free market.
"Our recent product, technology, and investment announcements highlight our collective commitment to be leaders in the U.S. transition to electric vehicles. This represents a dramatic shift from the U.S. market today that can be achieved only with the timely deployment of the full suite of electrification policies committed to by the Administration in the Build Back Better Plan, including purchase incentives, a comprehensive charging network of sufficient density to support the millions of vehicles these targets represent, investments in R&D, and incentives to expand the electric vehicle manufacturing and supply chains in the United States."
In another joint statement penned by BMW, Ford, Honda, Volkswagen and Volvo, automakers made it clear that the government must take "bold action…to build consumer demand," Reuters reported.
How bold this action might really be remains to be seen. But historically, anytime Uncle Sam steps in to take the place of the free market, it typically ends up bad like Mr. Magoo in a UFC cage match—there are just far too many serious forces at work there that shouldn't be trifled with.
And to a certain extent, it looks like Biden appreciates this awkward mismatch. An executive order signed he signed last Thursday which calls for making half of all new vehicles sold in the U.S. electric by 2030 isn't enforceable—at least by any lawful standards.
That's not, however, going to stop OEMs from plowing ahead to pursue their electrification goals all the while expecting the government to "build consumer demand." And you can bet that there are plenty of politicians in D.C. that will continue to push Biden to do that in a very big way with a very big price tag to boot. The biggest expense of all? The loss of the free market.